Regular price
$6,995.00 USD
Regular price
Sale price
$6,995.00 USD
Unit price
per
Sale
Sold out
Description

THE EDDY BARREL

This western red cedar, Amish handcrafted sauna can be placed indoors or outdoors and is the perfect size for 2 people. Due to the ergonomic design of the barrel, enjoy leaning back and sweating in style by yourself or with a friend.

SIMPLICITY:

Simply turn the HUUM heater on from your phone or controller, set the temperature, wait for it to preheat, and your sauna will be ready to use!
Features

SIZE

6' x 4' Western Red Cedar Barrel Sauna
Seating Perfect For 2 People

TEMPERATURE

110F - 230F used as both a dry and wet traditional sauna. Heating times vary between 30-60 minutes depending on desired temperature

CONTROL W/ HUUM MOBILE APP

HUUM 4.5KW Wifi Enabled Heater w/ UKU Remote

USAGE

Can be used indoors with no roof kit & outdoors with roof kit

MADE IN USA

Handcrafted in Ohio, USA
Finn American & Amish Built
Cedar Sourced in US

EASY ASSEMBLY

Two people can build the Eddy barrel within 2-3 hours

SHIPPING

Quick Ship in 4 Weeks. Additional shipping charges apply to Alaska & Hawaii
Share
View full details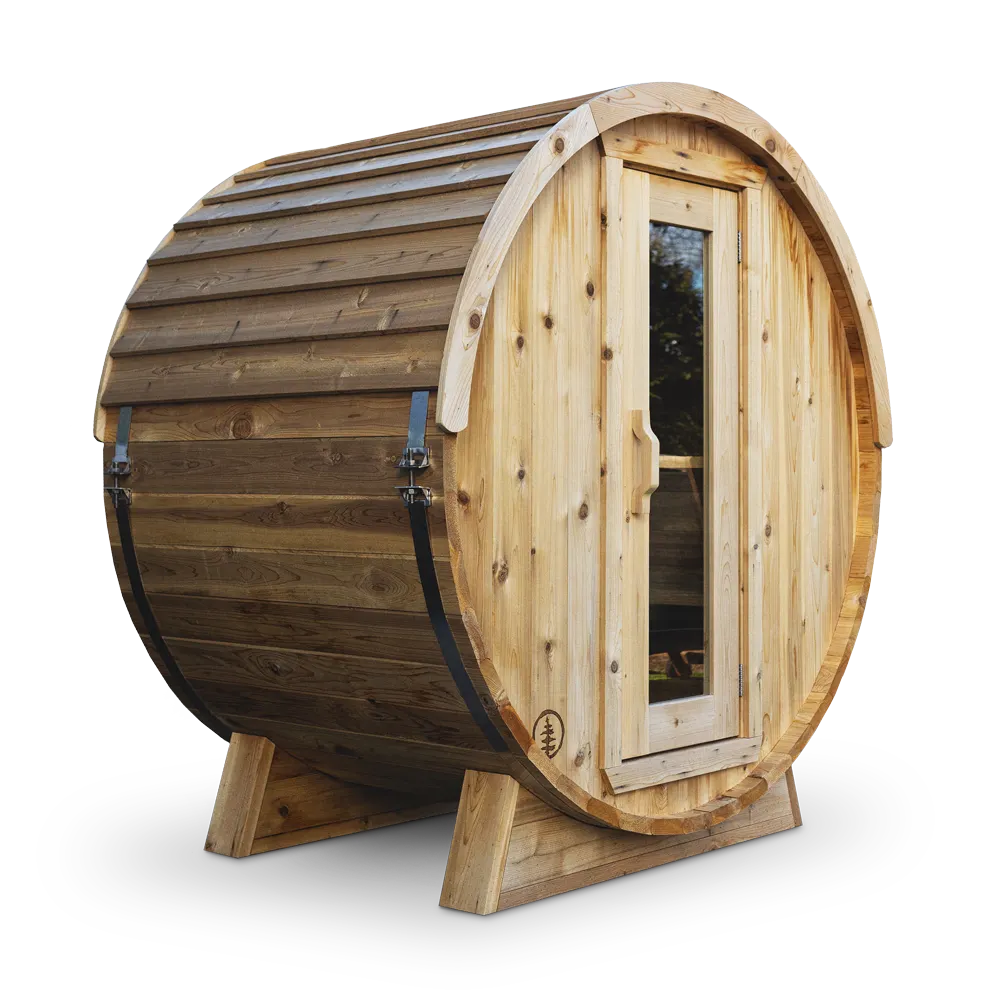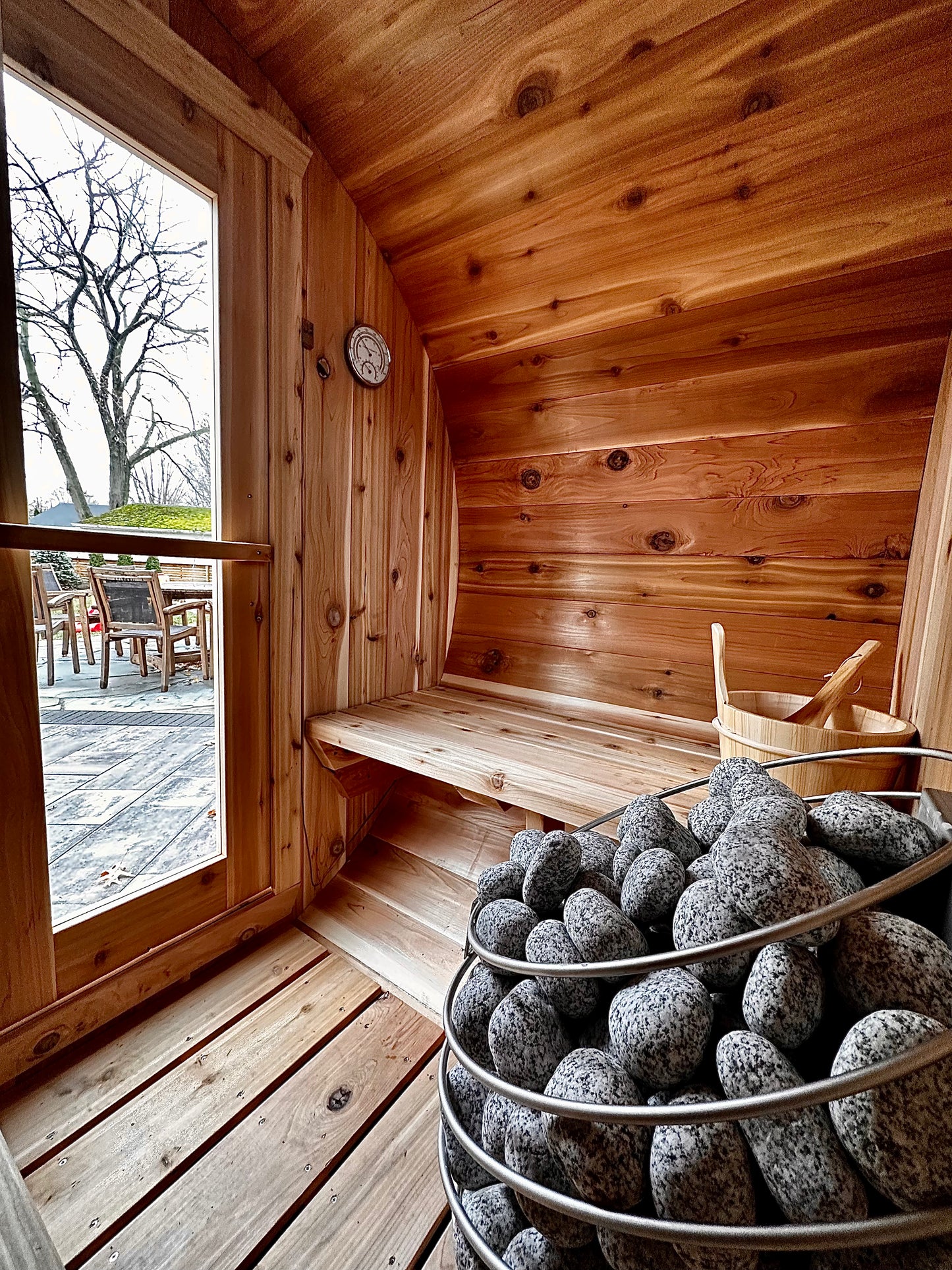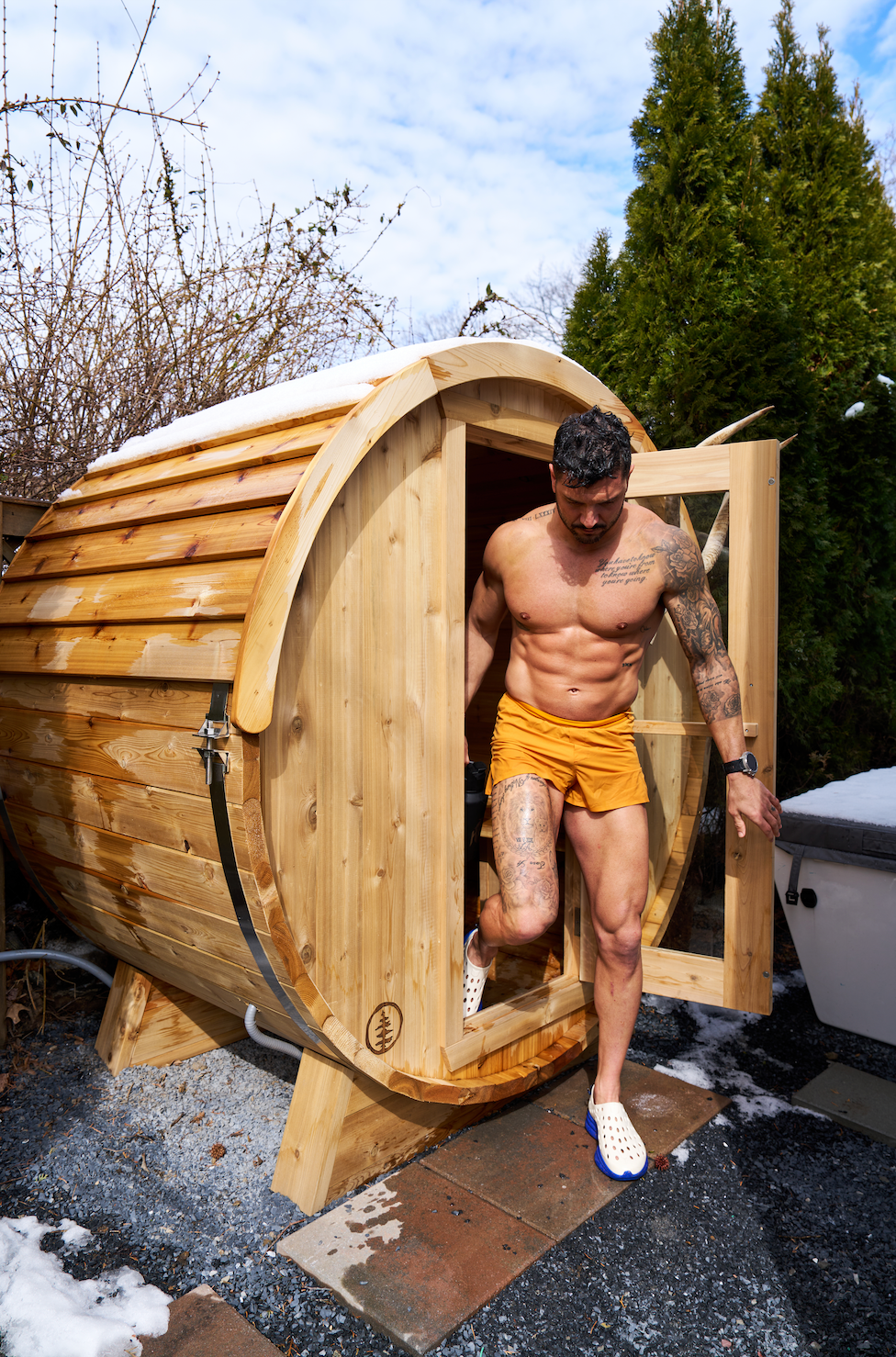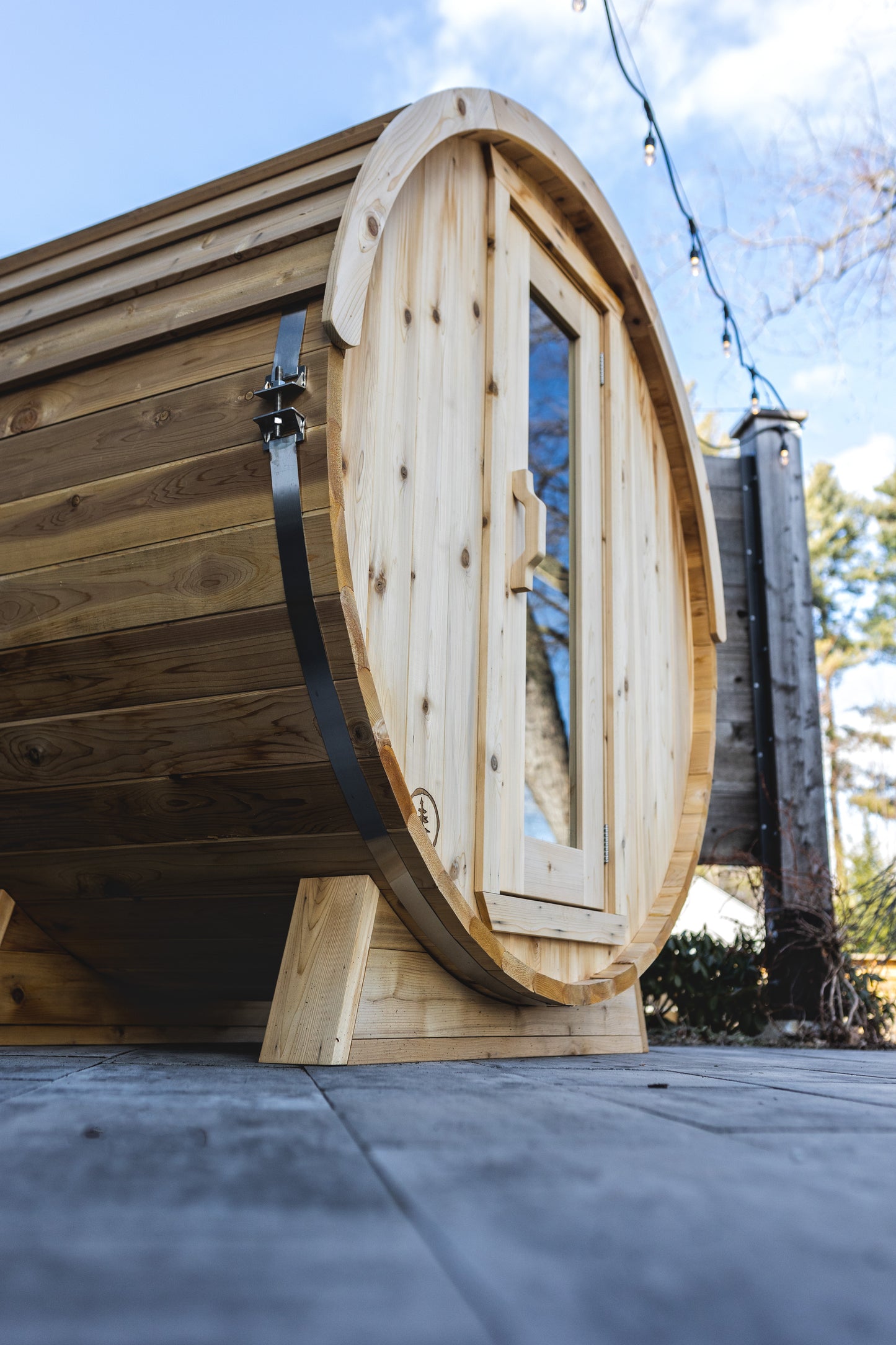 Learn More: The Eddy Barrel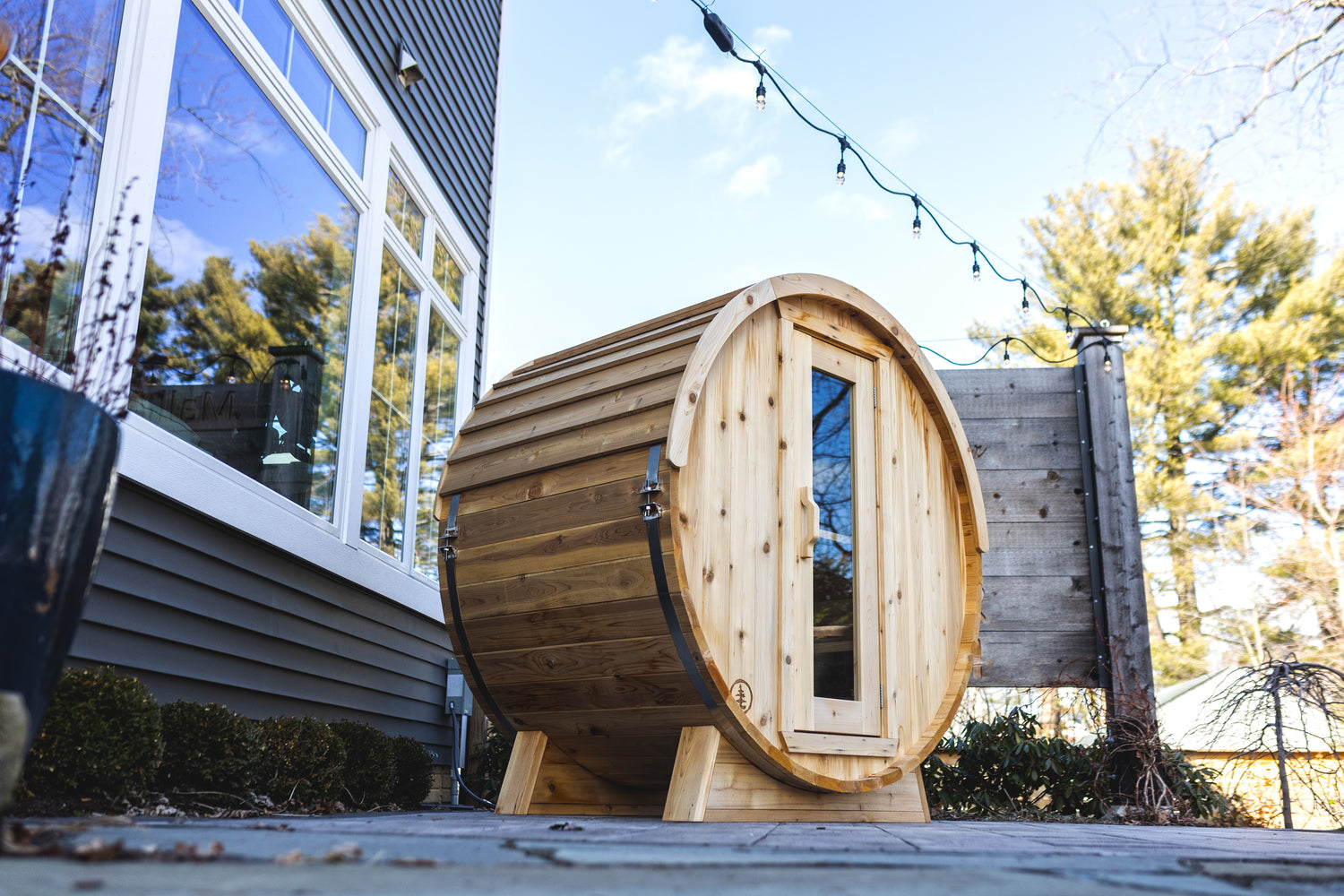 What's Included

HEATER

HUUM 4.5KW Drop Electric Heater w/ Wifi Enabled UKU Controller

STONE

120lbs of HUUM rounded granite olivine diabase stones.

ROOF KIT (ADD-ON)

Rain & Ice Guard + Cedar Bevel Siding Roof Kit For Outdoor Use

SEATING

Two Durable Cedar Benches

WINDOWS

Tempered Glass Front & Rear Windows

STAINLESS STEEL

2 Stainless Steel Straps w/ Fasteners & Bolts
Door Hinges

ACCESSORIES

Bucket, Ladle, Sample Products, and more!
Specifications

BUILT DIMENSIONS:

Sauna: 72" wide (diameter) x 48" Deep x 76" Tall (includes cradles)
Cradles: 2 (48" wide x 5.5" Deep)

WEIGHT

750-800lbs (roof kit dependent)

SHIPS IN CRATE

45.5" wide x 44" tall x 72" long (Crated Weight: 1,020lbs)
Electrical Requirements

HUUM 4.5KW DROP HEATER

240v - 30 amp single phase double pull breaker - 10/2 wire (hardwired connection)
For further specifications, please head to HUUM's site: https://huumsauna.com/tooted/drop/
What's Expected Of You

ASSEMBLY

(Don't worry, we made it easy on you). All you need is a friend & a few hours. The Eddy Barrel was created to make the build-out as simple as possible. All staves are pre-cut and require no additional cutting to make the pieces fit.

TOOLS REQUIRED

Level
Adjustable Wrench
Rubber Mallet
Hammer
#2 Phillips Head Bit, #2 Square Bit, & Drill
3/4" Deep Socket & Wrench

ELECTRICAL CONNECTION

The HUUM Heater is ran on a dedicated 240v hardwired line. We recommend contacting an electrician to run the electrical. Estimated costs depending on location: $500-$1,500.

FLAT RESTING SURFACE

We recommend a clear space for the sauna to sit on. Do not rest on grass or dirt. Crushed gravel, river rock, cement, wooden deck, and/or pavers would make for good resting surfaces.
Warranty

SISU GUARANTEE

Materials and craftsmanship matter. A sauna is a big decision that you should be very happy with, as it will be a staple of your home for many years. We confidently stand by our product. We guarantee you will love your hand-crafted sauna and if, for some reason, you don't, we offer a 100% money-back guarantee.

5 Year Limited Warranty on HUUM Heater
5 Year Limited Warranty on Sauna

Protection against potential construction, manufacturing, and material defects, in addition to rot and decay that renders the product unusable.
Shipping + Local Pick Up

QUICK SHIP

Ships within 4 weeks.
$600 Flat Rate Domestically to customers in lower 48.
Additional shipping charges apply to Alaska, Hawaii, AND remote locations.

FREE PICKUP

Free, local pick-up at our warehouse located in Middlefield, OH.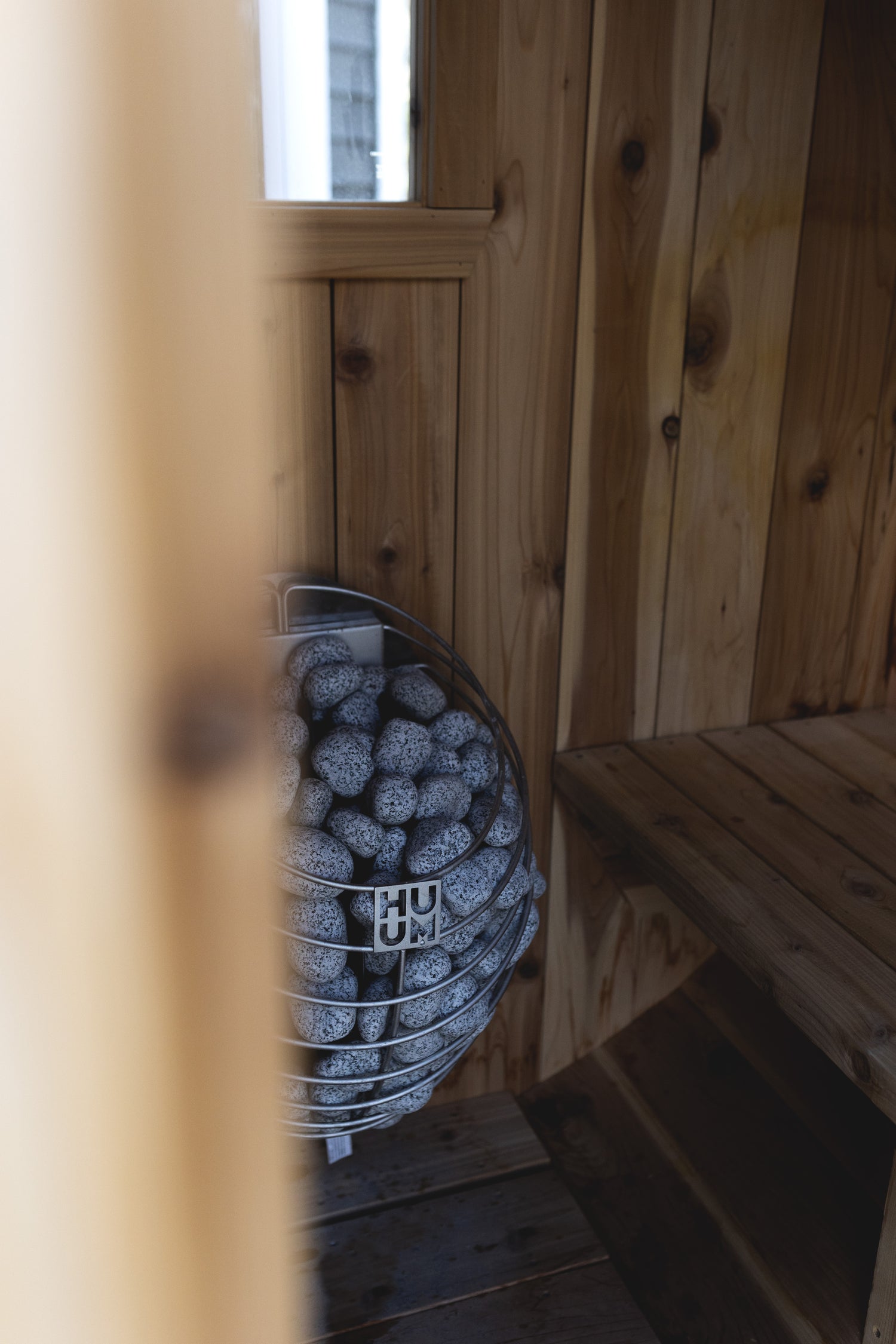 HUUM 4.5KW Drop Heater
DROP stove is inspired by the purest element in nature – a water drop. Its round design softens and livens up the angular interior of a classic sauna, giving it a touch of elegance.
Whether you are at the end of a long working day or going out for a run, with a couple of clicks on your phone you can have hot sauna waiting for you when you get home.
Learn More