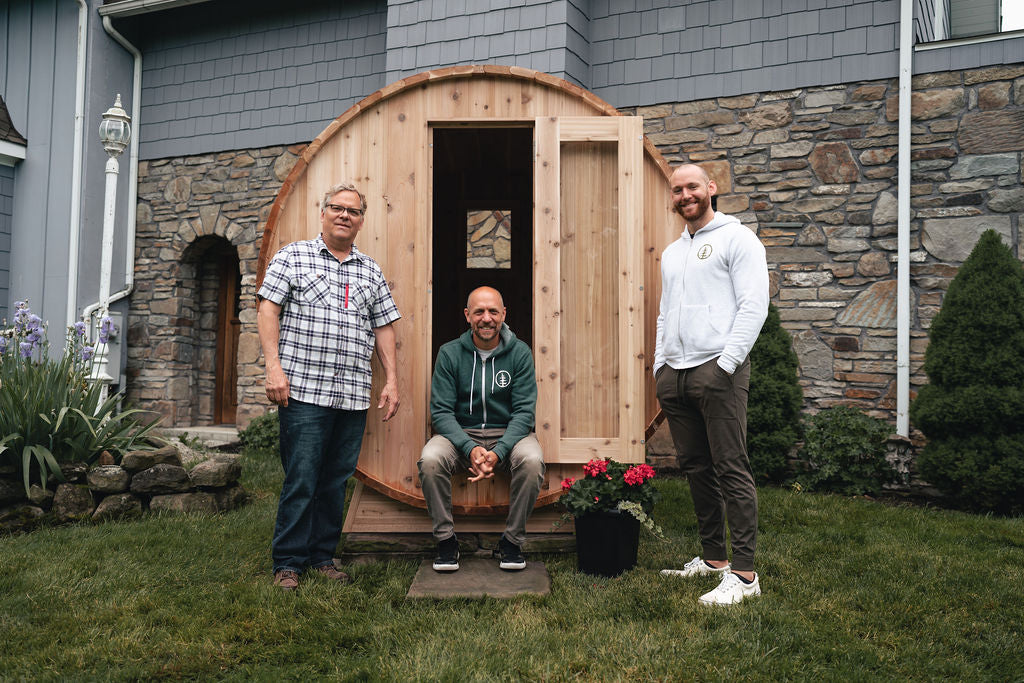 What is SISU?
SISU (see-su) is more than a word. Its an entire concept from the Finnish culture. Translated literally, it means "inside". However, to the Finnish people, it means determination, courage, bravery, tenacity, and grit.
It helps us confront common obstacles and not give up when things get hard or challenging. You can use the SISU concept as the basis for leading an active, healthy life and making progress toward your goals. With SISU, you let your actions do the talking!
About Us
Our SISU Sauna Co. Family is comprised of two married couples: Nancy & Nick Dadas + Paige & Peter Nelson. Every one of us has a passion for fitness and we are all seeking the next and best recovery techniques. As you can imagine, we all fell in love with sauna therapy. We are entrepreneurs and parents so, we are time-starved and constantly on the move. We have been life-long athletes, playing sports as children, through college, and pursuing passions like adventure races, ultra-marathons, mountain biking, road biking, and triathlons as adults. We realize that we want to be able to keep up with our children now and as we age, so we are constantly in pursuit of health and wellness approaches to increase our longevity and maintain our health.
We experienced sauna and ice therapy for the first time in 2017 at the XPT Experience with Laird Hamilton and Gabby Reece. After feeling the energizing and invigorating effect of heat and ice, we were hooked! Now, each of us have a sauna and cold plunge tub that we use on a regular basis.
As we've learned more about the crazy benefits of saunas, we found ourselves constantly telling friends and family that they had to get one! As we went through our own sauna research and purchase process, we realized it was a hard decision. There are a lot of options and it's a big expense! On top of that, the sauna comes un-assembled, requires a significant amount of work to put together, an electrician to hook it up, and lots of heavy lifting! We knew we needed to fix this...
Our story aside, our goal is to help make the buying, setup, and user procesess more simple by providing the best sauna experience to hit the market. We knew that for us to accomplish this, we needed the best team, the best builders, and the best manufacturing. This is where we met Mark Pollari, our manufacturing team lead. After some conversations, brainstorming, and some elbow grease, the Edwin Barrel was born.
With Mark and our Finn American & Amish manufacturing teams, we have devised the best barrel sauna that achieves the ultimate level of simplicity that we were trying to achieve.
Let us help you optimize your health and wellness so you can find your inner SISU!
- The SISU Lifestyle Family