Regular price
$1,395.00 USD
Regular price
Sale price
$1,395.00 USD
Unit price
per
Sale
Sold out
Description

THE EDEN SHOWER

This western red cedar handcrafted outdoor shower features matte black hardware with an easy garden hose attachment at the rear base of the shower.

SIMPLICITY

We've designed the Eden to have a seamless user experience. Simply turn on the shower from the water source, then twist-on or twist-off at the shower to allow for water flow.
Features

PERFECT SIZE 

92" Tall Western Red Cedar Outdoor Shower

MATTE BLACK HARDWARE

Waterfall Shower Head with Detachable Magnetic Wand

EASY ATTACHMENT

Garden Hose Tie-In on Rear Base of Shower

FAST ASSEMBLY

Two people can build the Eden Shower within 30 minutes

MADE IN USA 

Handcrafted in Ohio, USA
Finn American & Amish Built
Cedar Sourced in US

FAST SHIPPING

Quick Ship in 2-3 Weeks. Additional shipping charges apply to Alaska & Hawaii
Share
View full details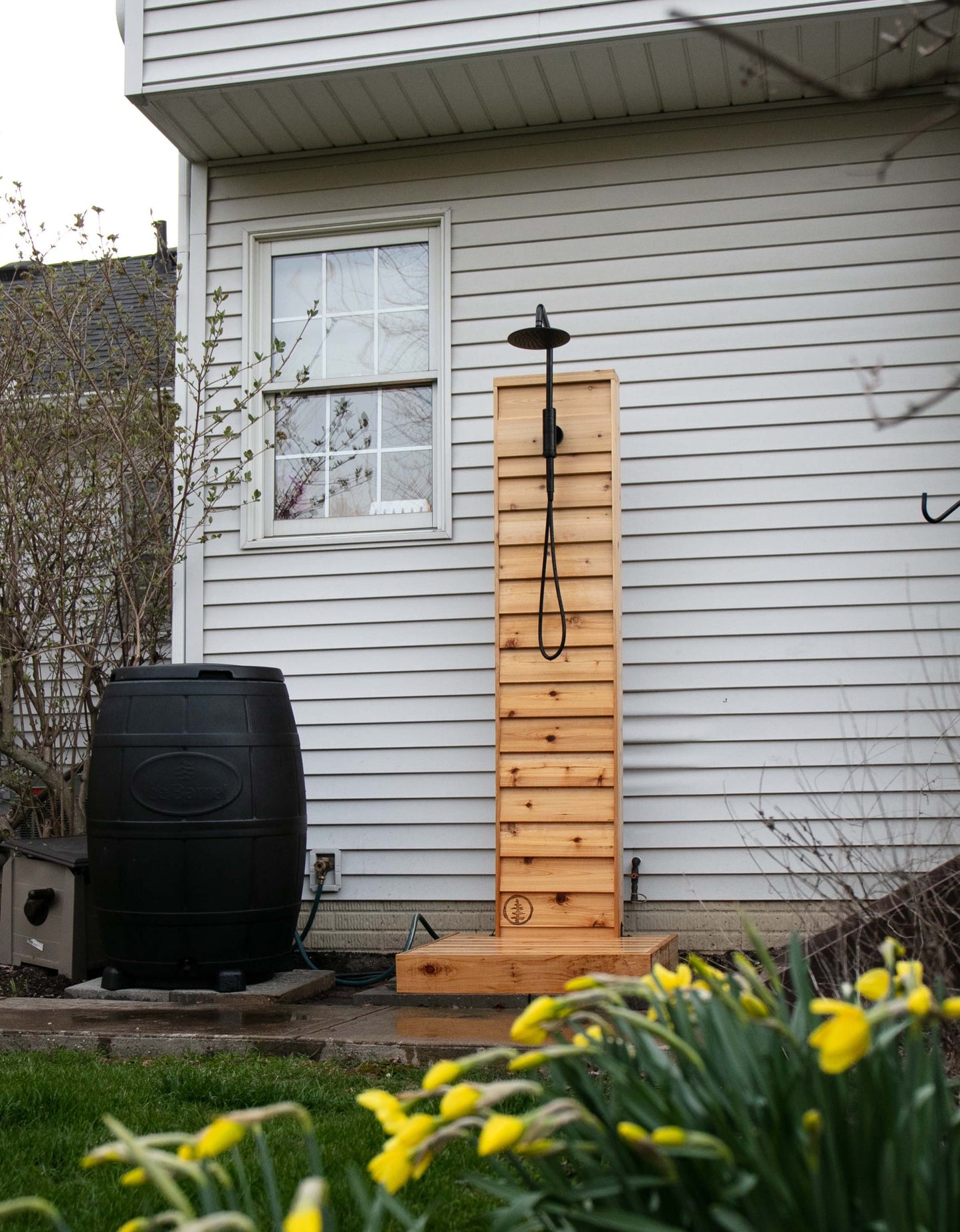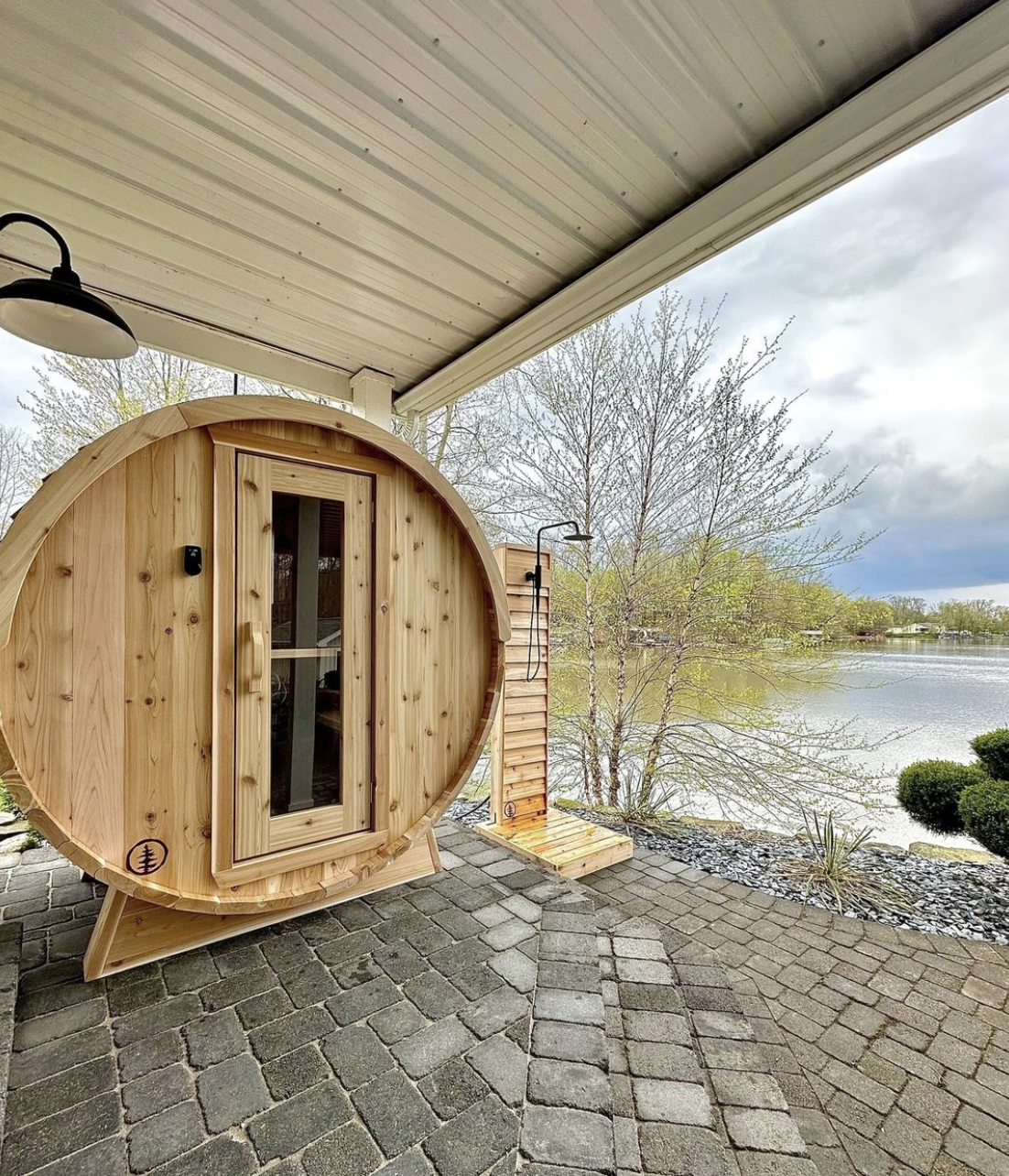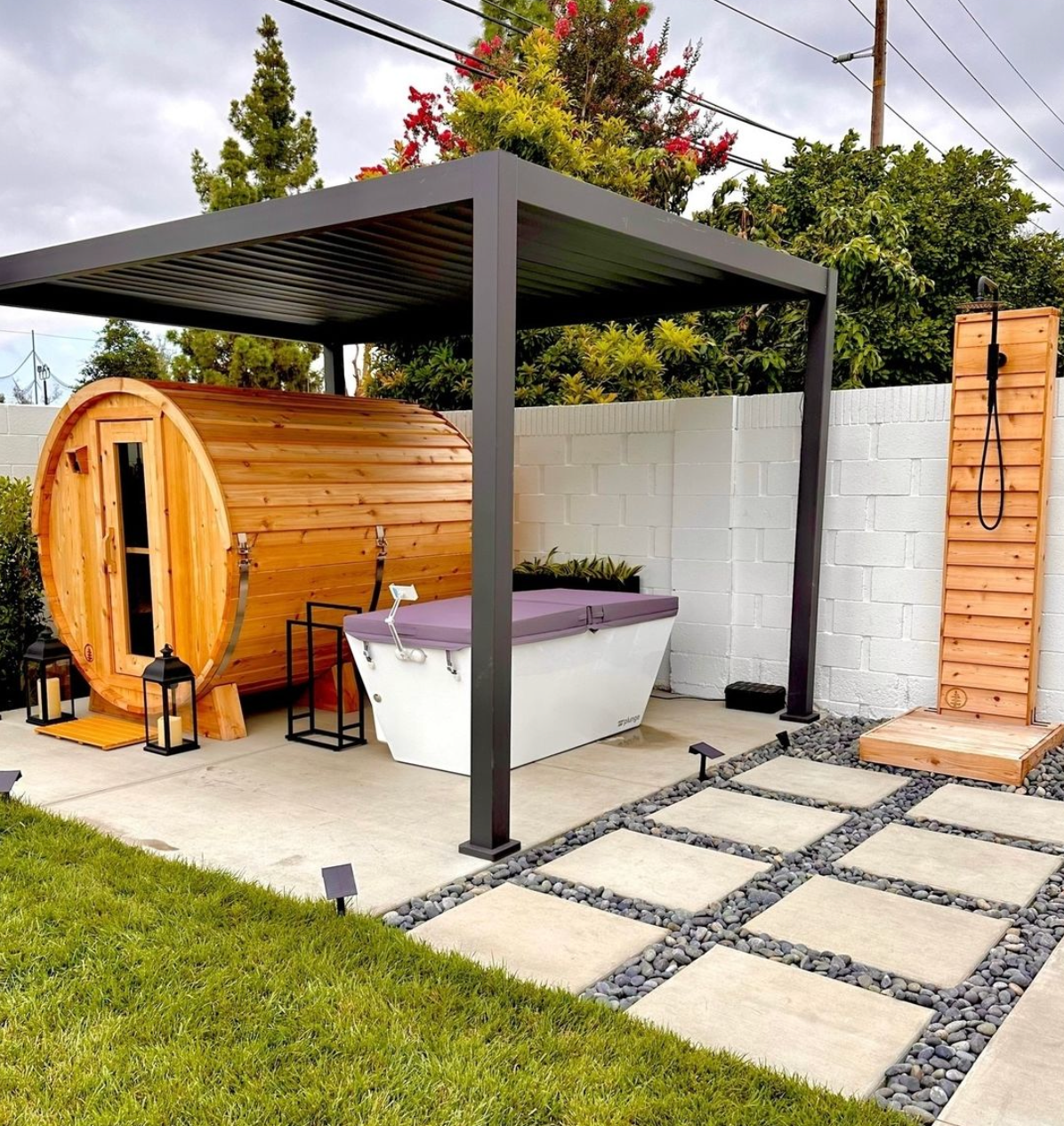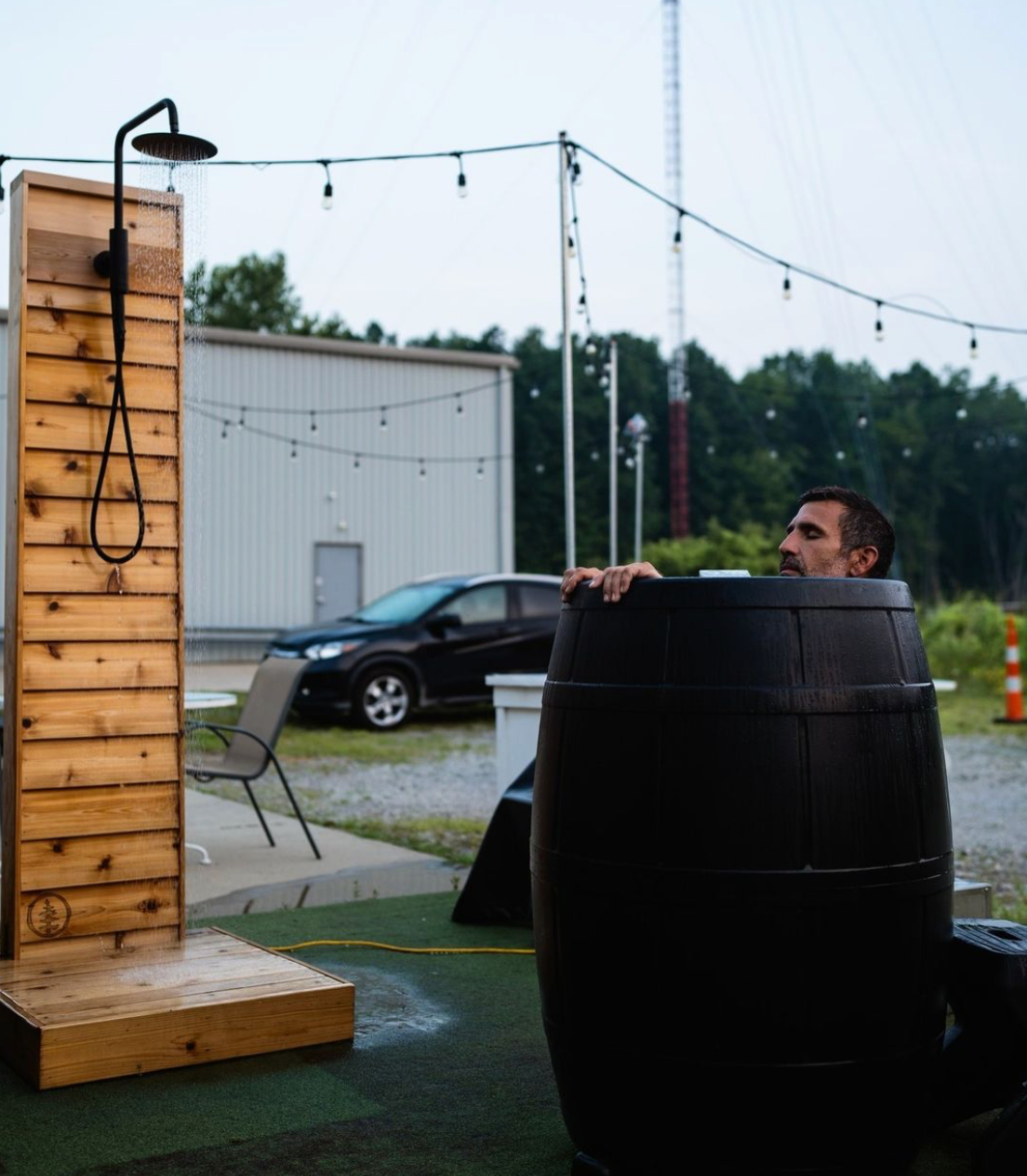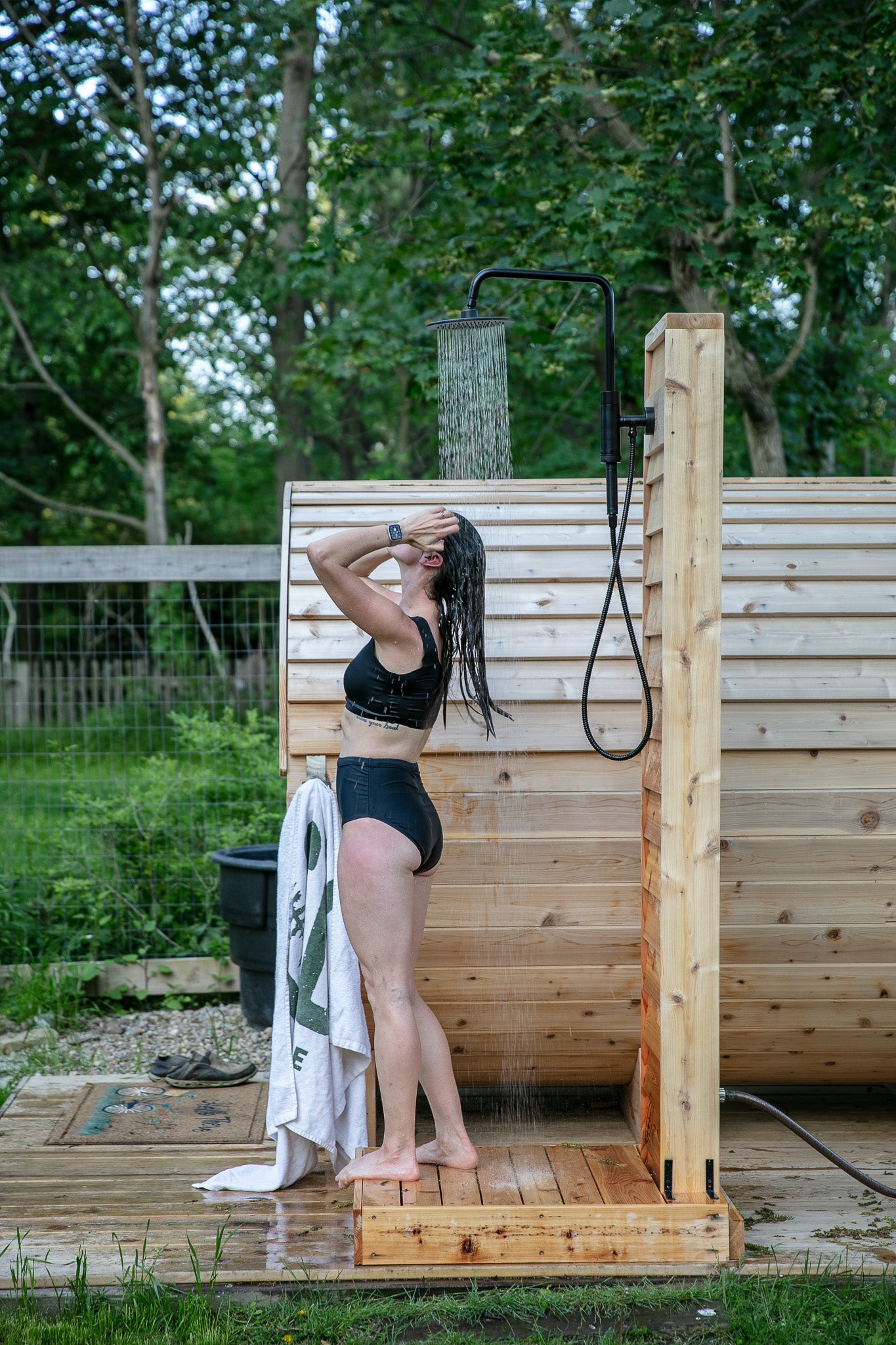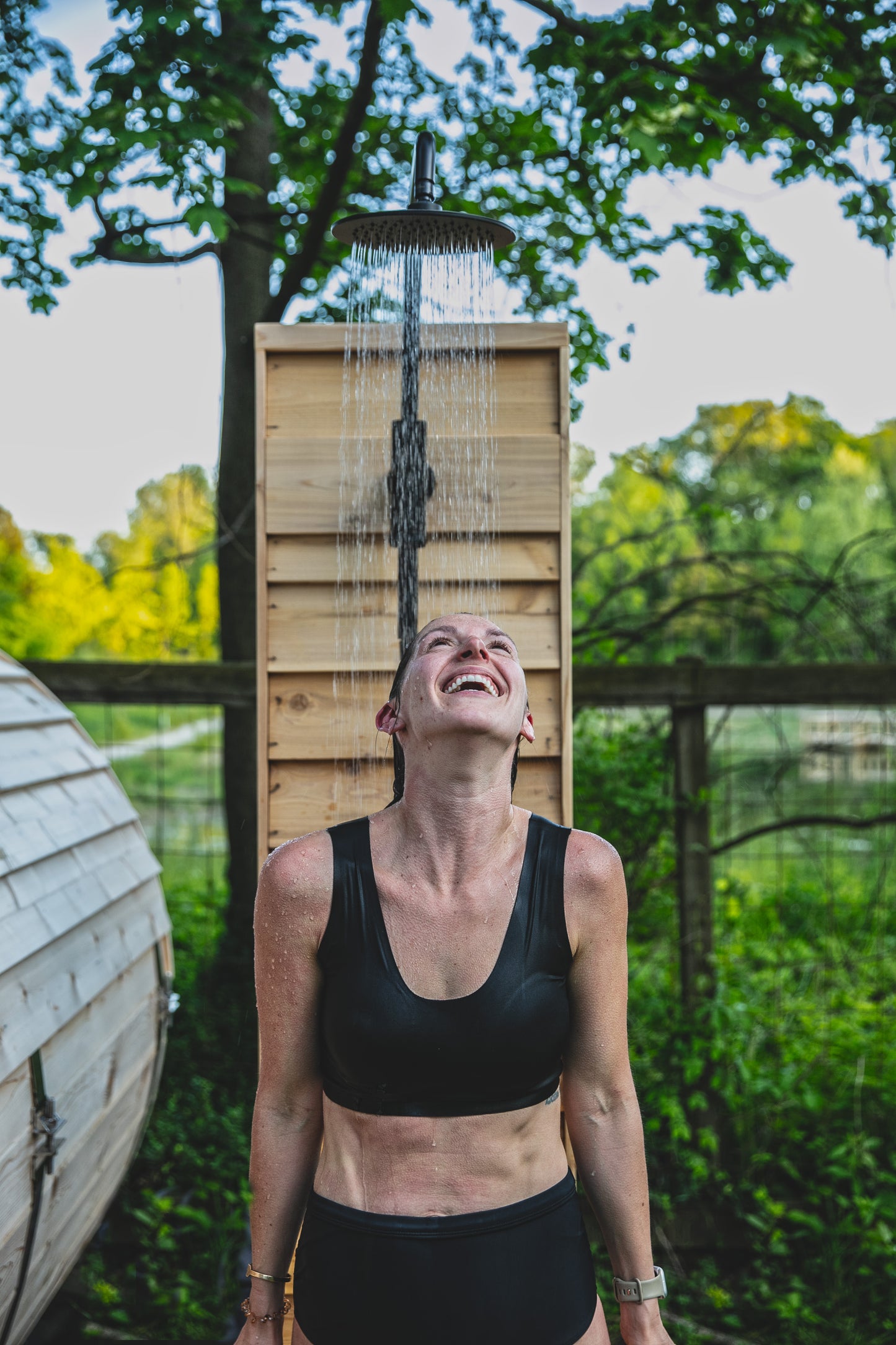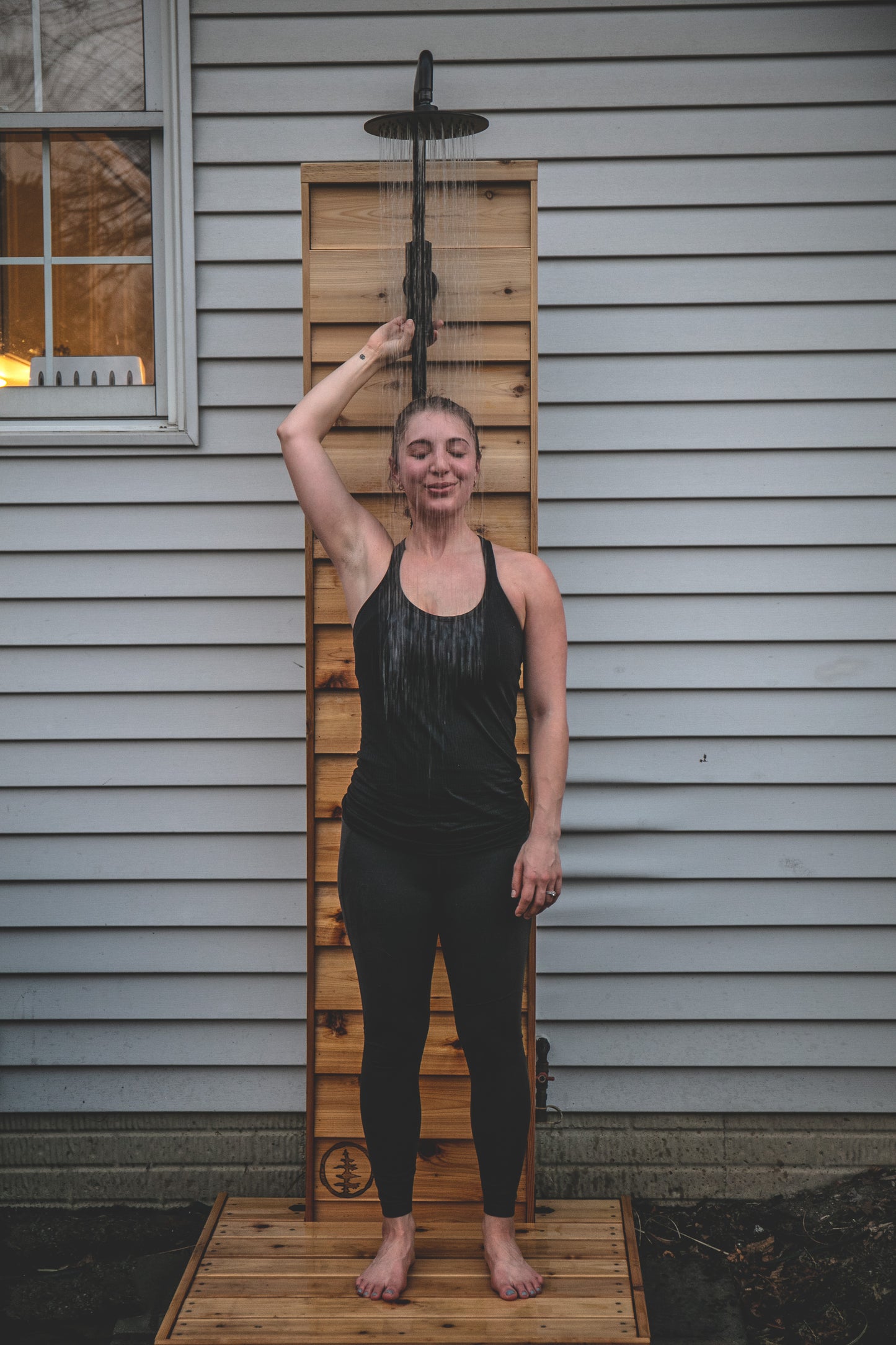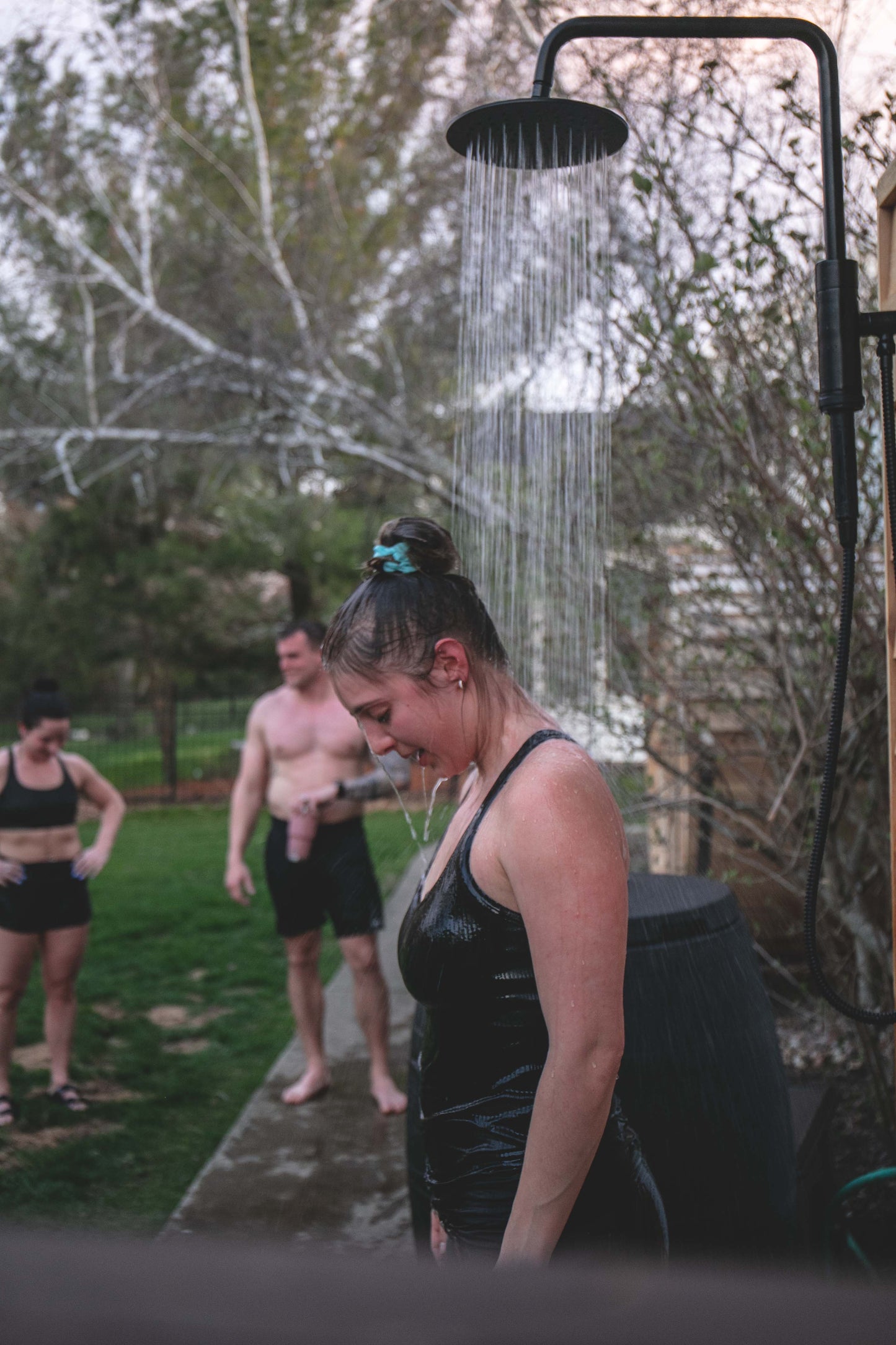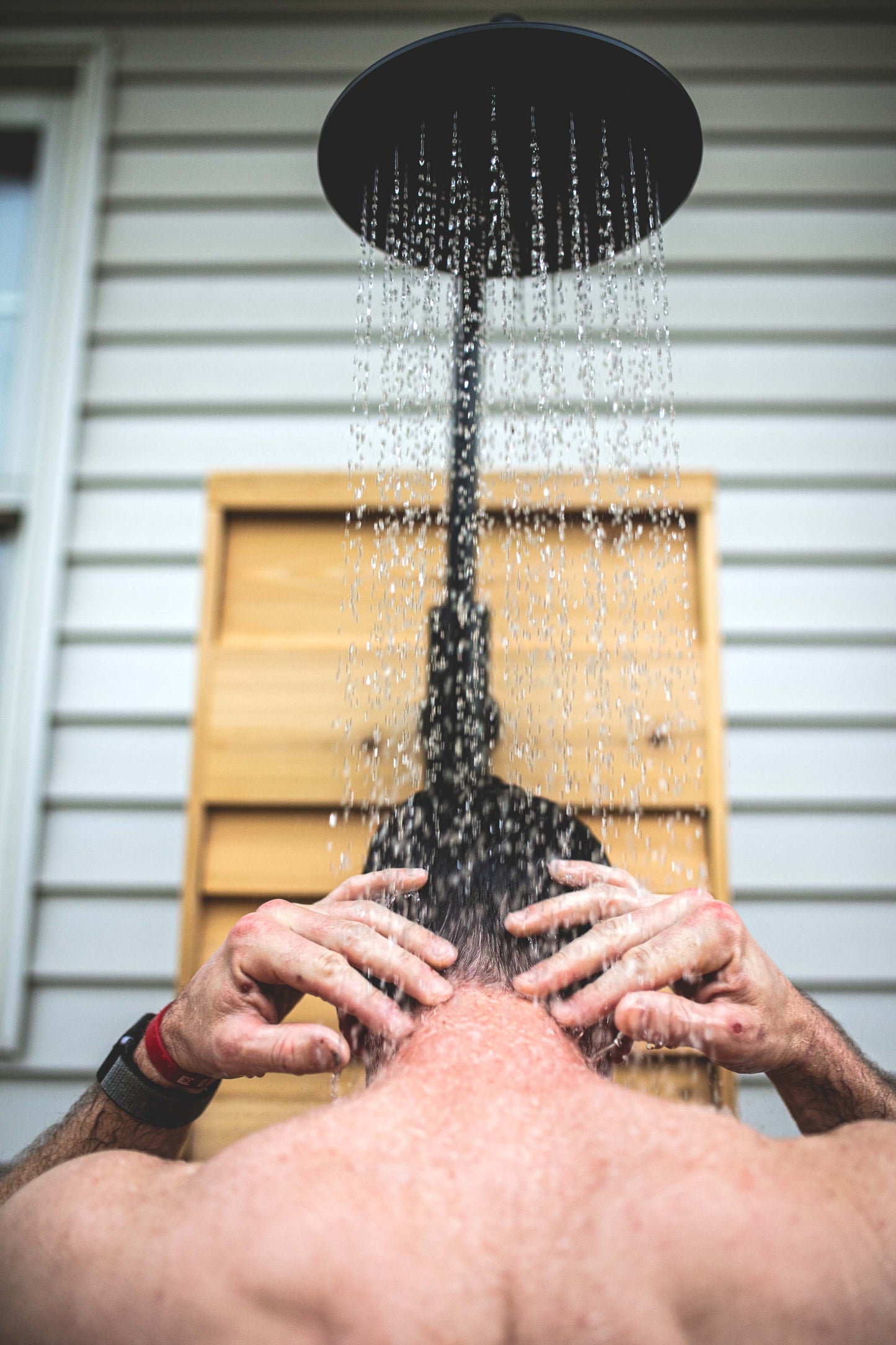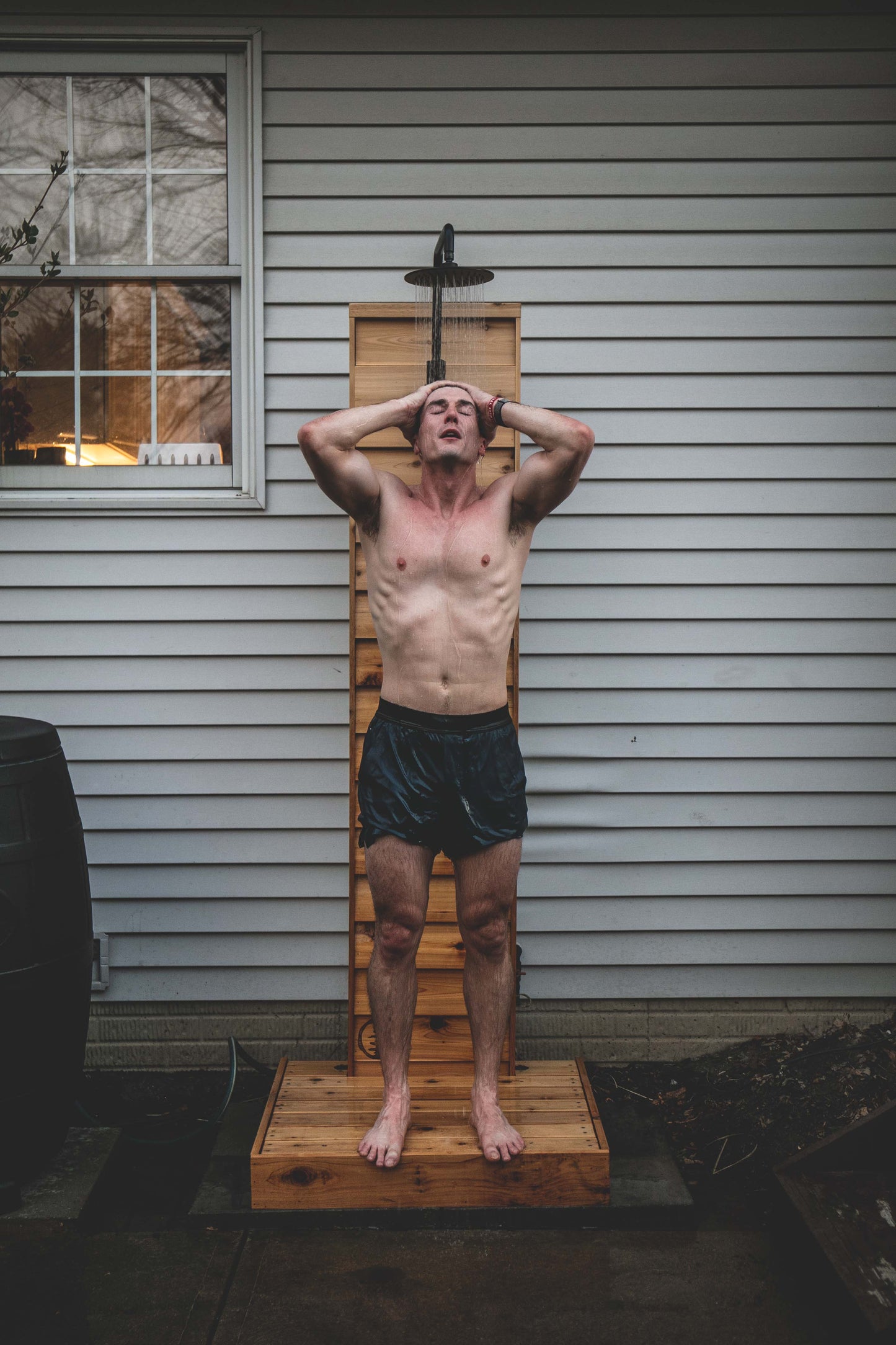 Recharge Your Mind and Body
What's Included

Cedar Shower Tower
Cedar Shower Base
Shower Hardware Box (includes shower head, hose, head connection, and tower support brackets)
Specifications

BUILT DIMENSIONS

33.5" Wide x 92" Tall x 31.5" Deep
Clearance from floor to shower head is 82".

SHIPS IN TWO BOXES

Box 1 of 2: Tower
20" Wide x 89" Tall x 9" Deep (51lbs)
Box 2 of 2: Base
34" Wide x 33" Tall x 7" Deep (36lbs)
Different Uses

COLD EXPOSURE THERAPY

Cold showers (sub 60F) have immense health benefits including improved circulation, increased metabolism, improved immune system function, reduced muscle soreness, and improved mental health.

CONTRAST THERAPY

Adding periods of cooling after being in the sauna presents vast health benefits. This experience is heightened when you add the shower to your cold plunge and sauna.

RINSE OFF

The shower allows you to keep your sauna and cold plunge clean when using. You can also use after your workout or long day at the beach!
What's Expected Of You

ASSEMBLY

(Don't worry, we made it easy on you). All you need is a friend & 30 minutes. The Eden was created to make the build-out as simple as possible. All wood is pre-cut and requires no additional cutting to make the pieces fit.

TOOLS REQUIRED

utility knife
Phillips head screwdriver bit & drill
All other tools necessary for completion are included

WATER SOURCE CONNECTION

The Eden is sourced by an outdoor water supply. The garden hose, water supply, and hookup work for the water must be available and working in order to use the shower.

FLAT RESTING SURFACE

We recommend a clear space for the shower to sit on. Do not rest on grass or dirt. Crushed gravel, river rock, cement, wooden deck, and/or pavers would make for good resting surfaces.
Warranty

SISU GUARANTEE 

Materials and craftsmanship matter. An outdoor shower is a big decision that you should be very happy with, as it will be a staple of your home for many years. We confidently stand by our product. We guarantee you will love your hand-crafted product and if, for some reason, you don't, we offer a 100% money-back guarantee.

1 Year Limited Warranty on Shower

*Protection against potential construction, manufacturing, and material defects, in addition to rot and decay that renders the product unusable.

**Not to be used or hooked up to water source in temperatures lower than 32F.
Shipping + Local Pick Up

FLAT RATE SHIPPING

$300 Flat Rate Domestically - Lower 48. Additional shipping charges apply to Alaska, Hawaii, AND remote locations. Ships within 2-3 weeks. No delivery appointment is required.

FREE PICKUP

Free, local pick-up at our warehouse located in Middlefield, OH.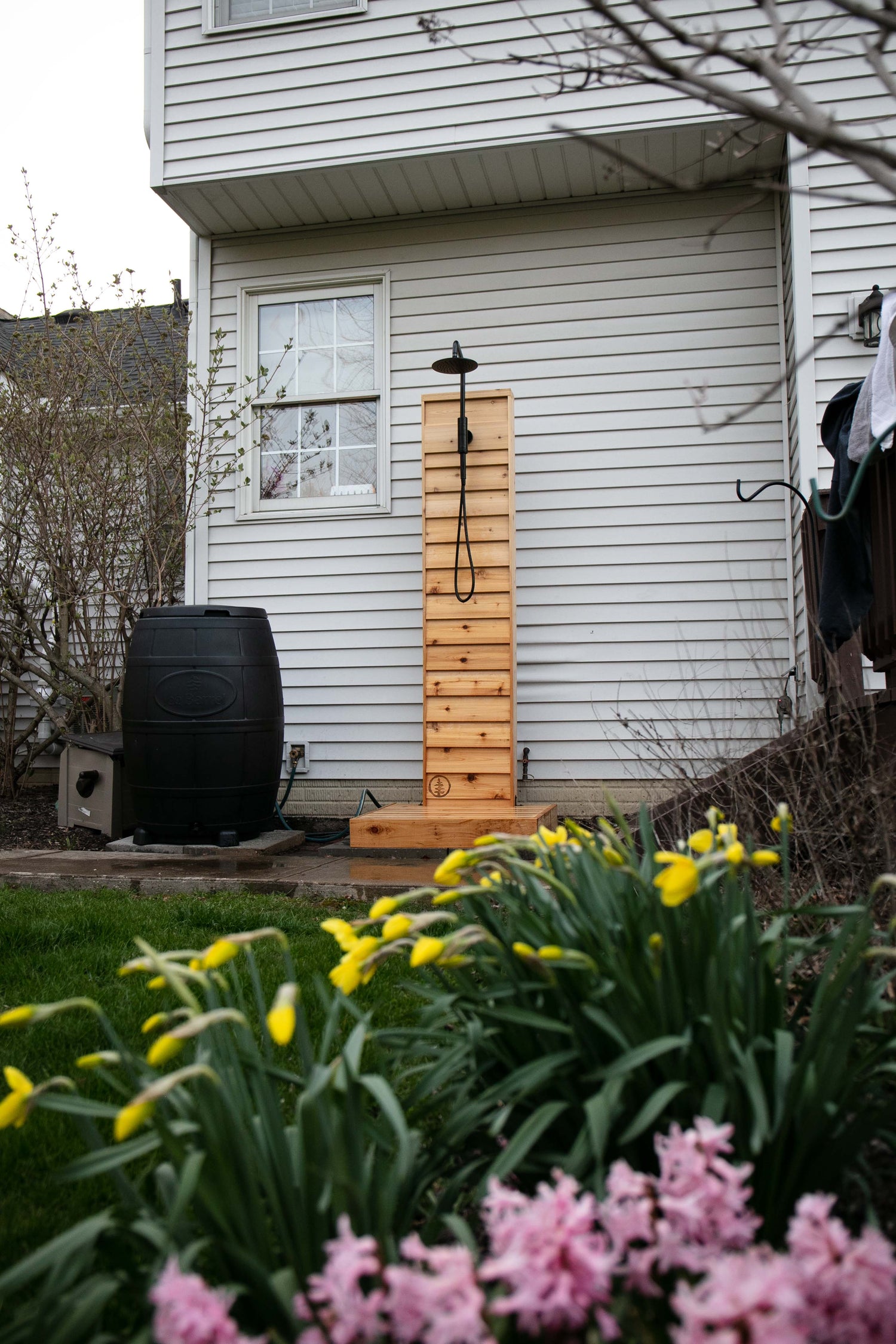 Cold Shower: The Science
Cold showers have been found to offer several potential health benefits, supported by scientific research. Exposure to cold water has been shown to constrict blood vessels, which can help to increase blood flow, energy levels and reduce inflammation. It can also activate brown fat, which burns calories to generate heat, and increase metabolic rate, aiding in weight loss. 
Additionally, cold showers can improve immune function by increasing white blood cell count, reduce muscle soreness after exercise, and promote mental well-being by increasing endorphin production. However, it is important to note that the effects of cold showers may vary from person to person, and individuals with certain health conditions should consult with their doctor before trying them.
Huberman Lab: Cold Shower Protocol