Regular price
$10,345.00 USD
Regular price
$0.00 USD
Sale price
$10,345.00 USD
Unit price
per
Sale
Sold out
Description

THE EDWIN BARREL

This western red cedar, Amish handcrafted sauna can be placed indoors or outdoors and is the perfect size for 6-8 people. Due to the ergonomic design of the barrel, enjoy leaning back, laying down on our wide benches, and share a sweat with your friends and family.

SIMPLICITY

Simply turn the HUUM heater on from your phone or controller, set the temperature, wait for it to preheat, and your sauna will be ready to use!
Features

SIZE 

6' x 7' Western Red Cedar Barrel Sauna
Seating For 6-8 People

TEMPERATURE

110F - 230F used as both a dry and wet traditional sauna. Heating times vary between 30-60 minutes depending on desired temperature

CONTROL W/ HUUM MOBILE APP

HUUM 6KW Wifi Enabled Heater w/ UKU Remote

USAGE

Can be used indoors with no roof kit & outdoors with roof kit

MADE IN USA 

Handcrafted in Ohio, USA
Finn American & Amish Built
Cedar Sourced in US

EASY ASSEMBLY

Two people can build the Edwin barrel within 2-3 hours

SHIPPING

Ships in 4-5* Weeks. Additional shipping charges apply to Alaska & Hawaii
Share
View full details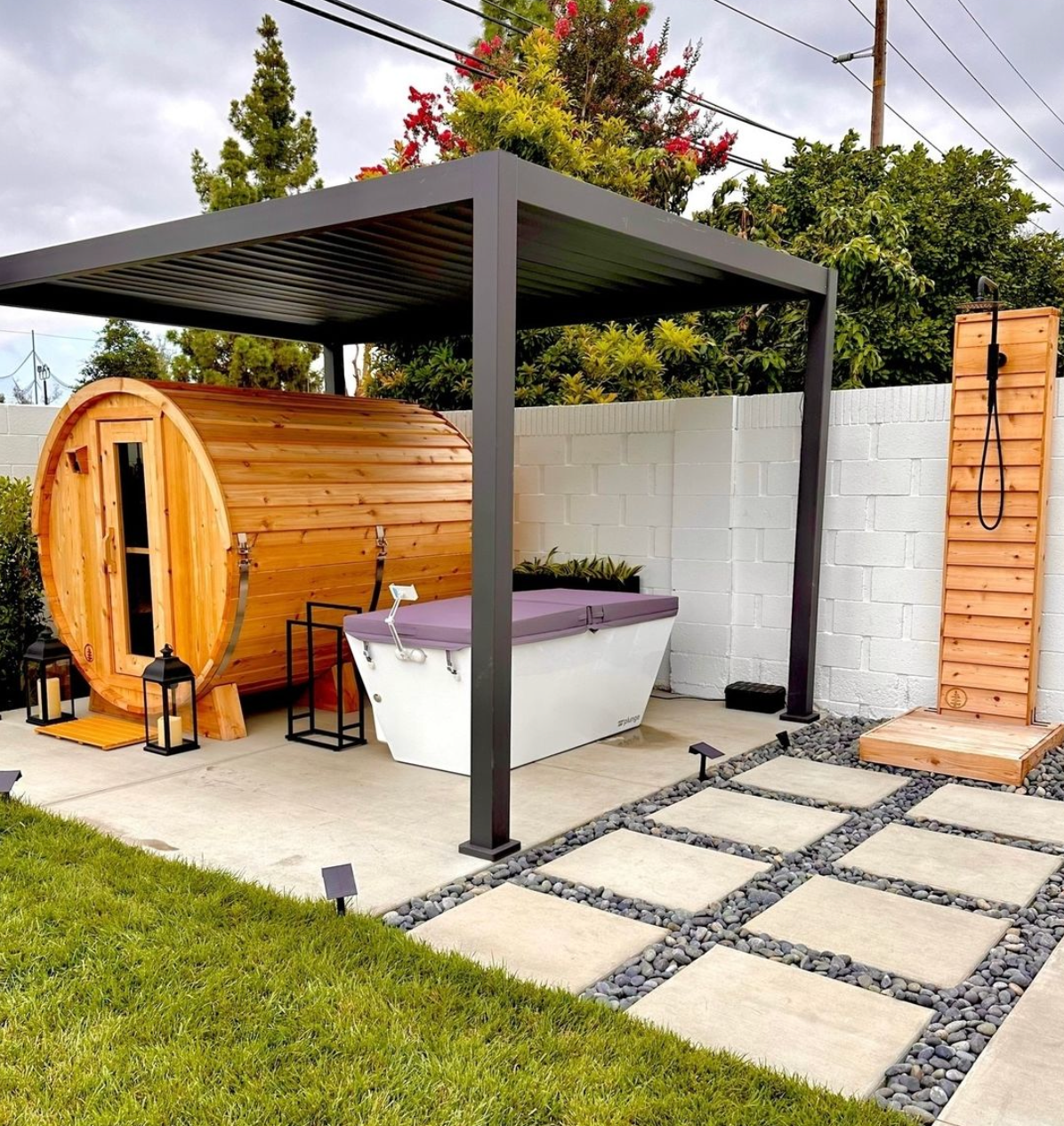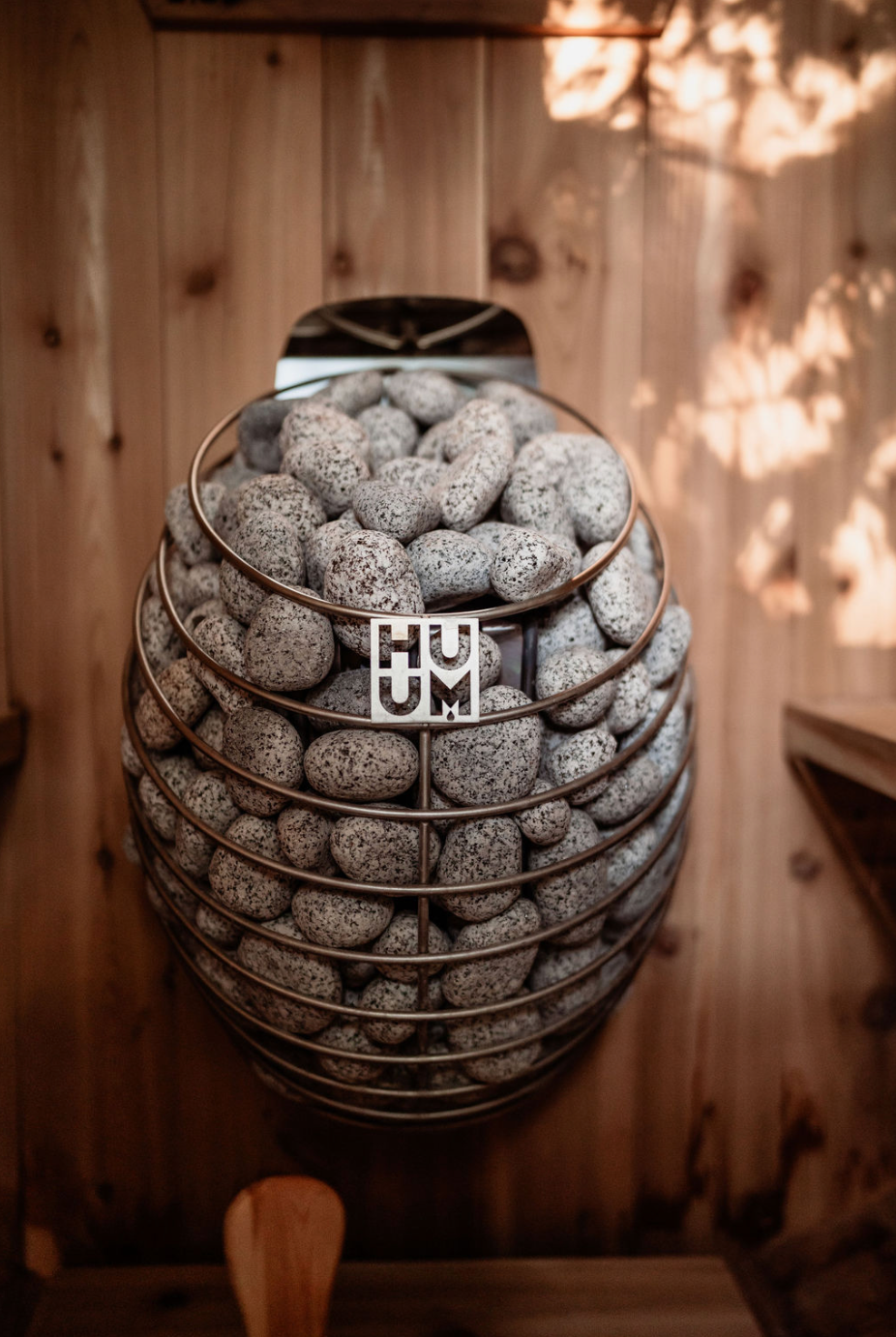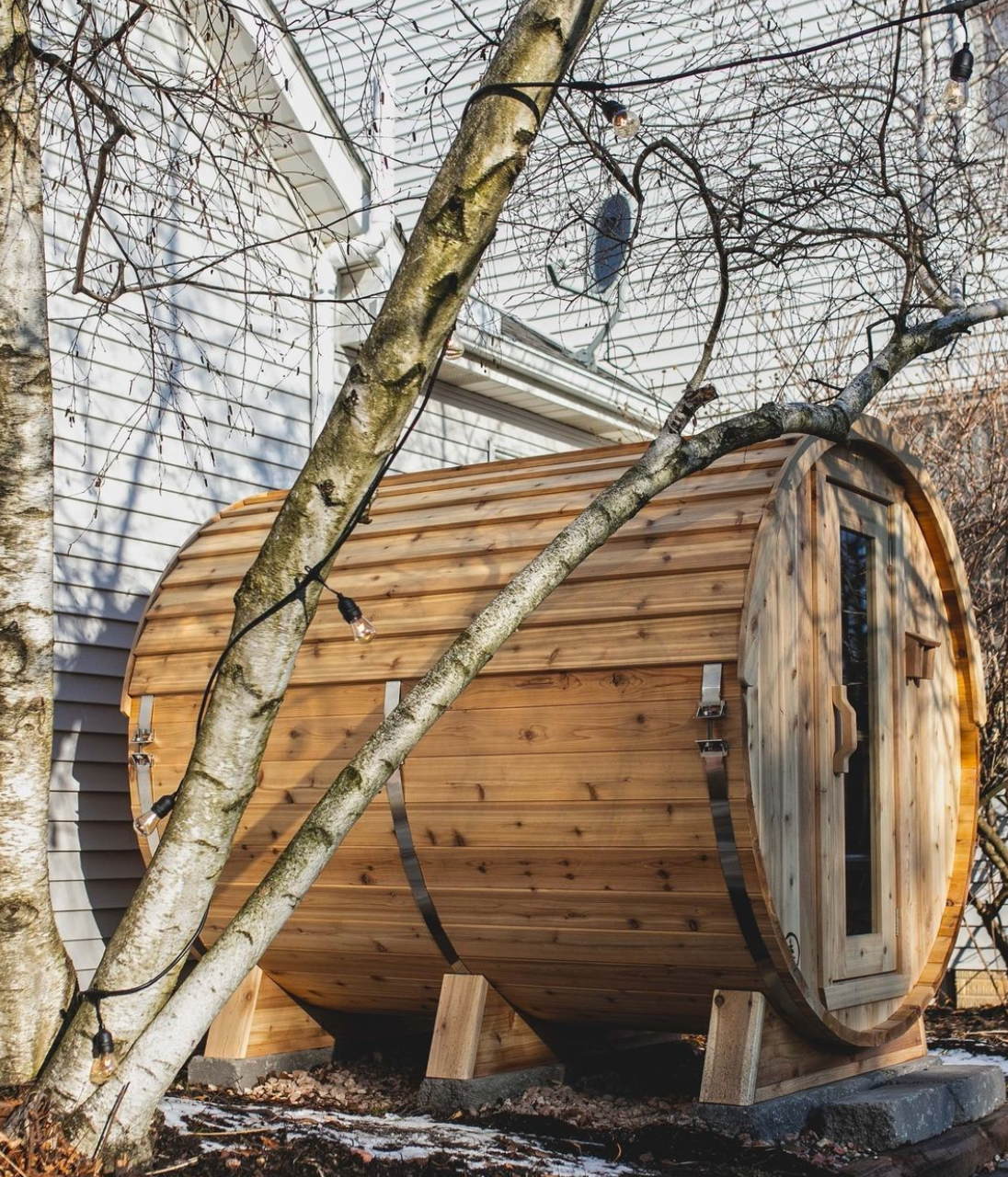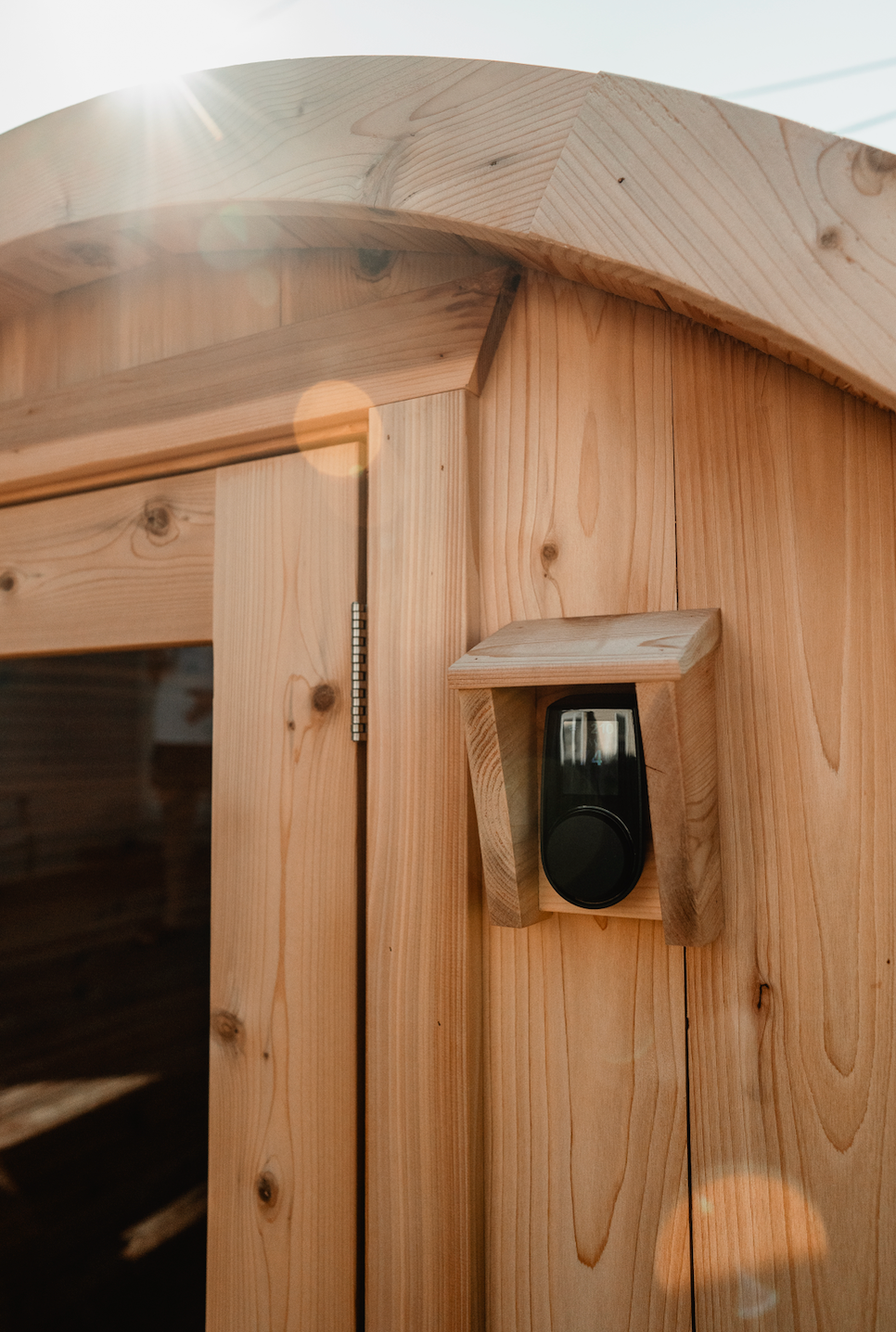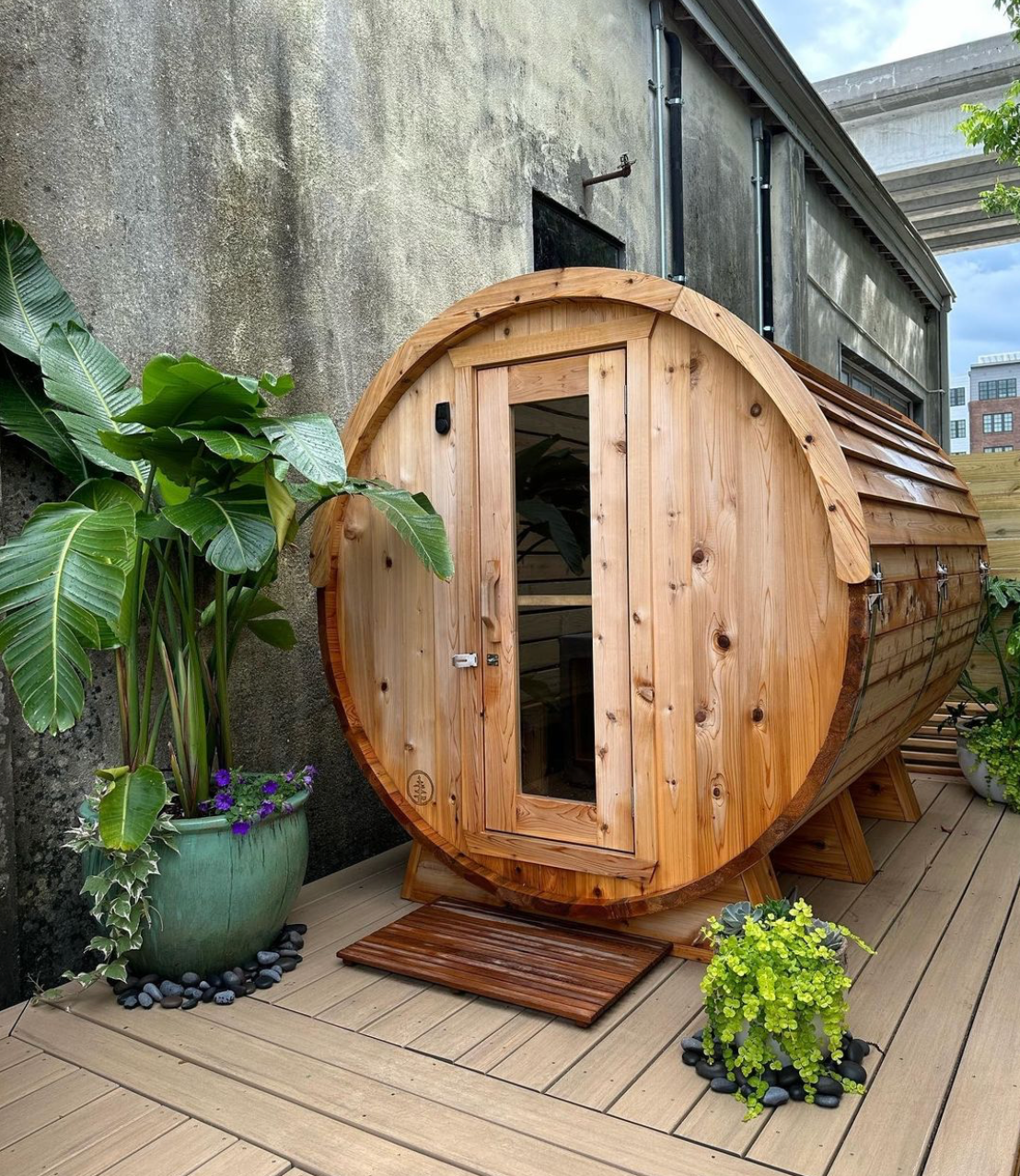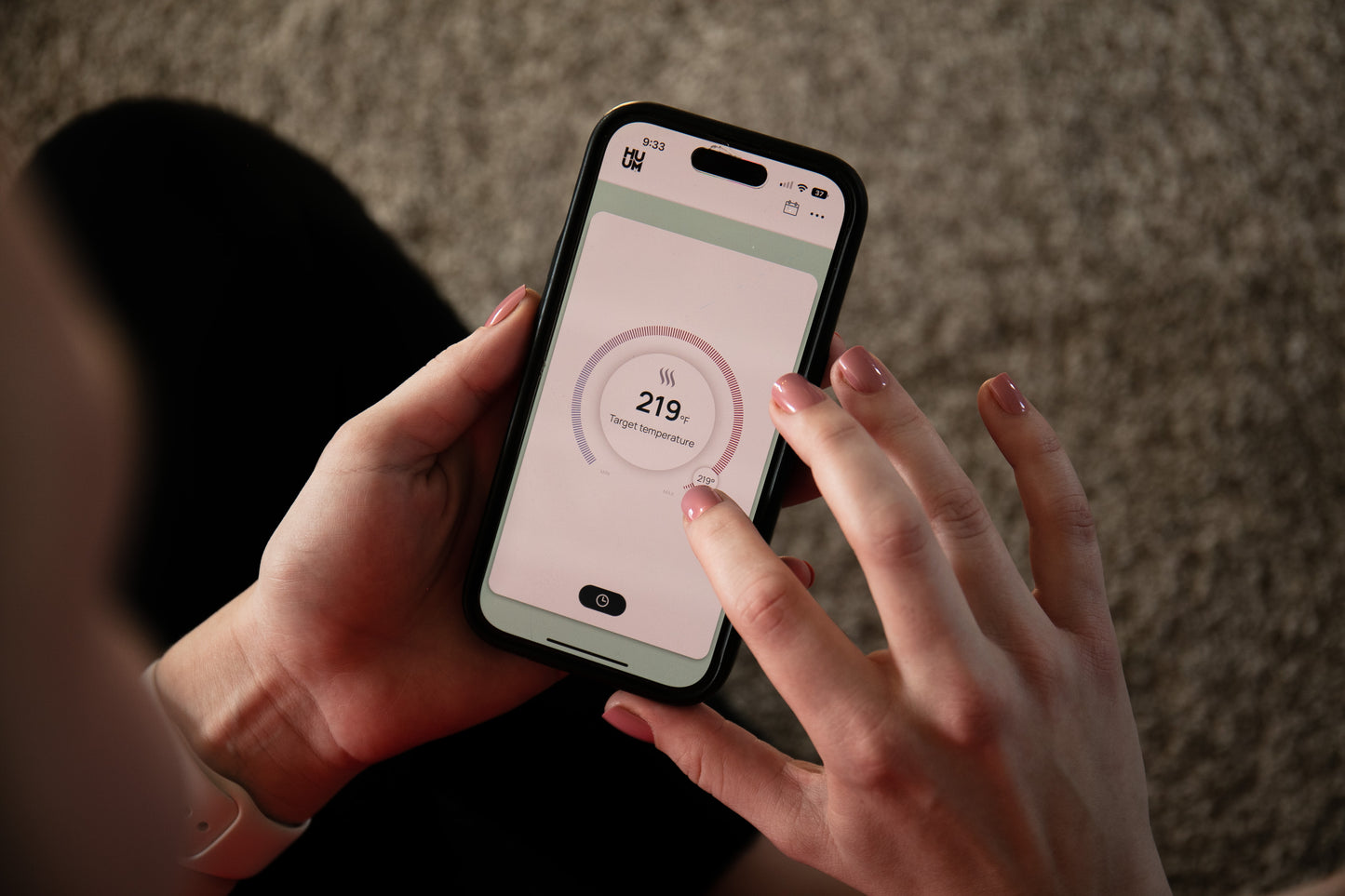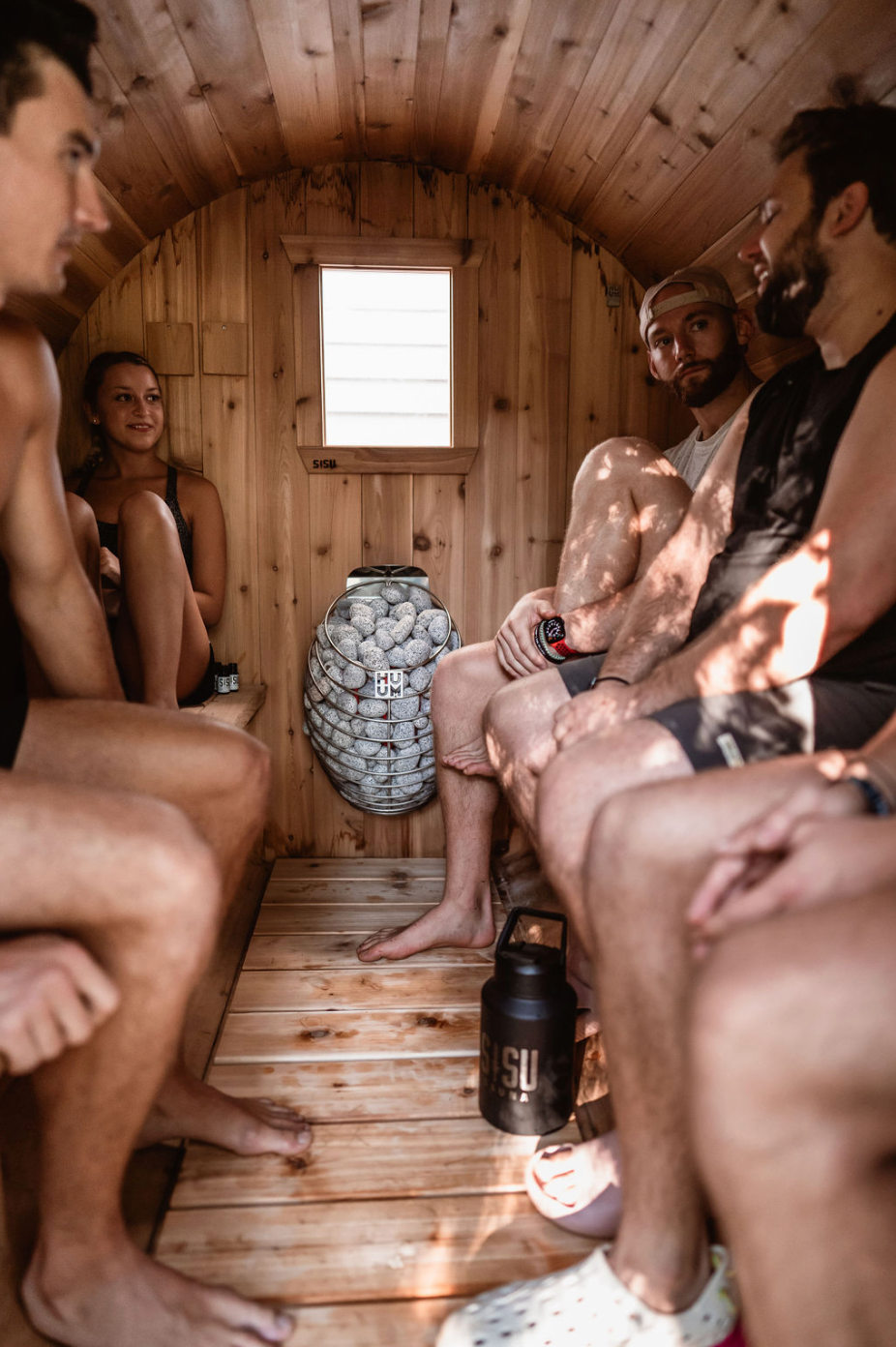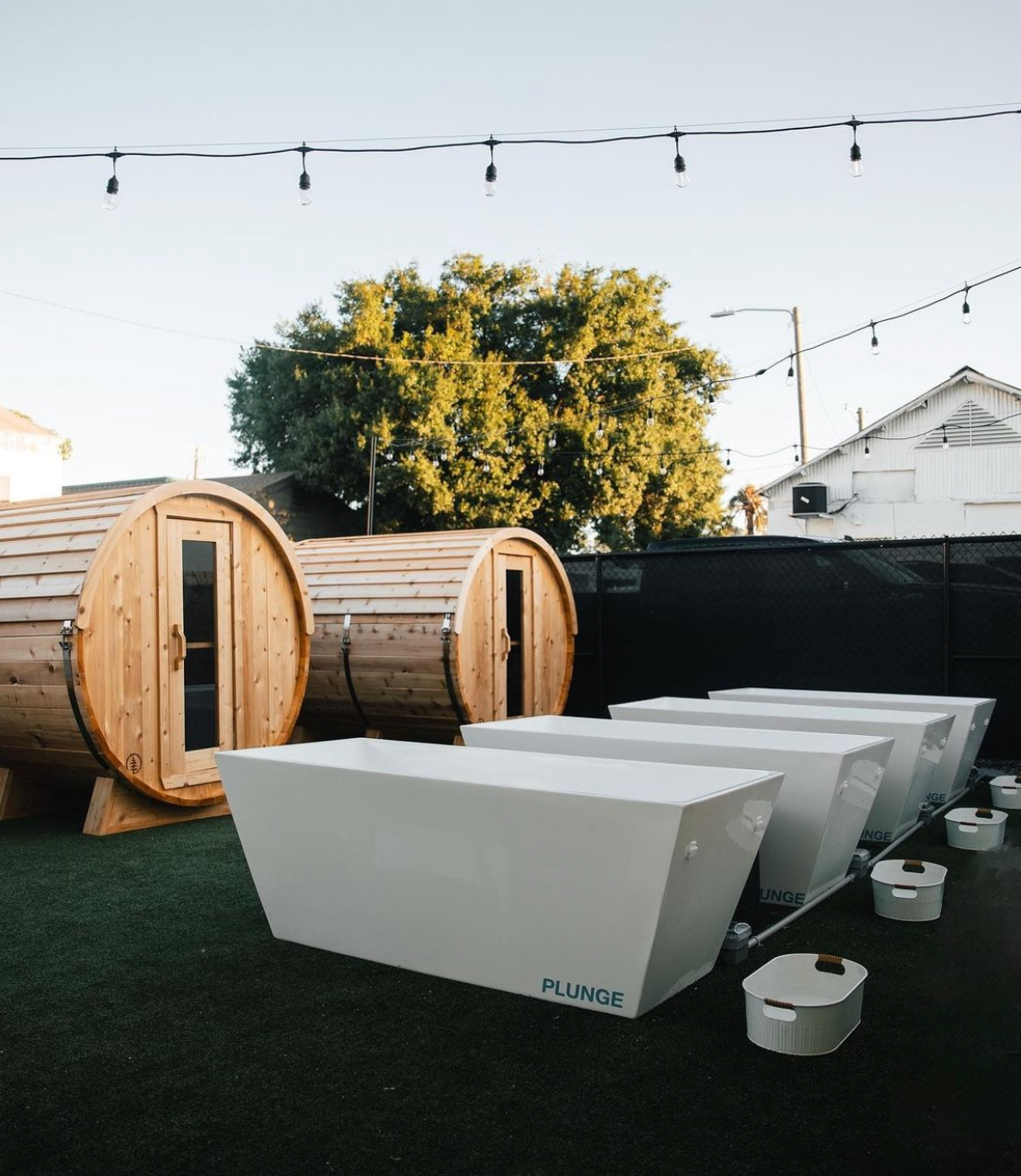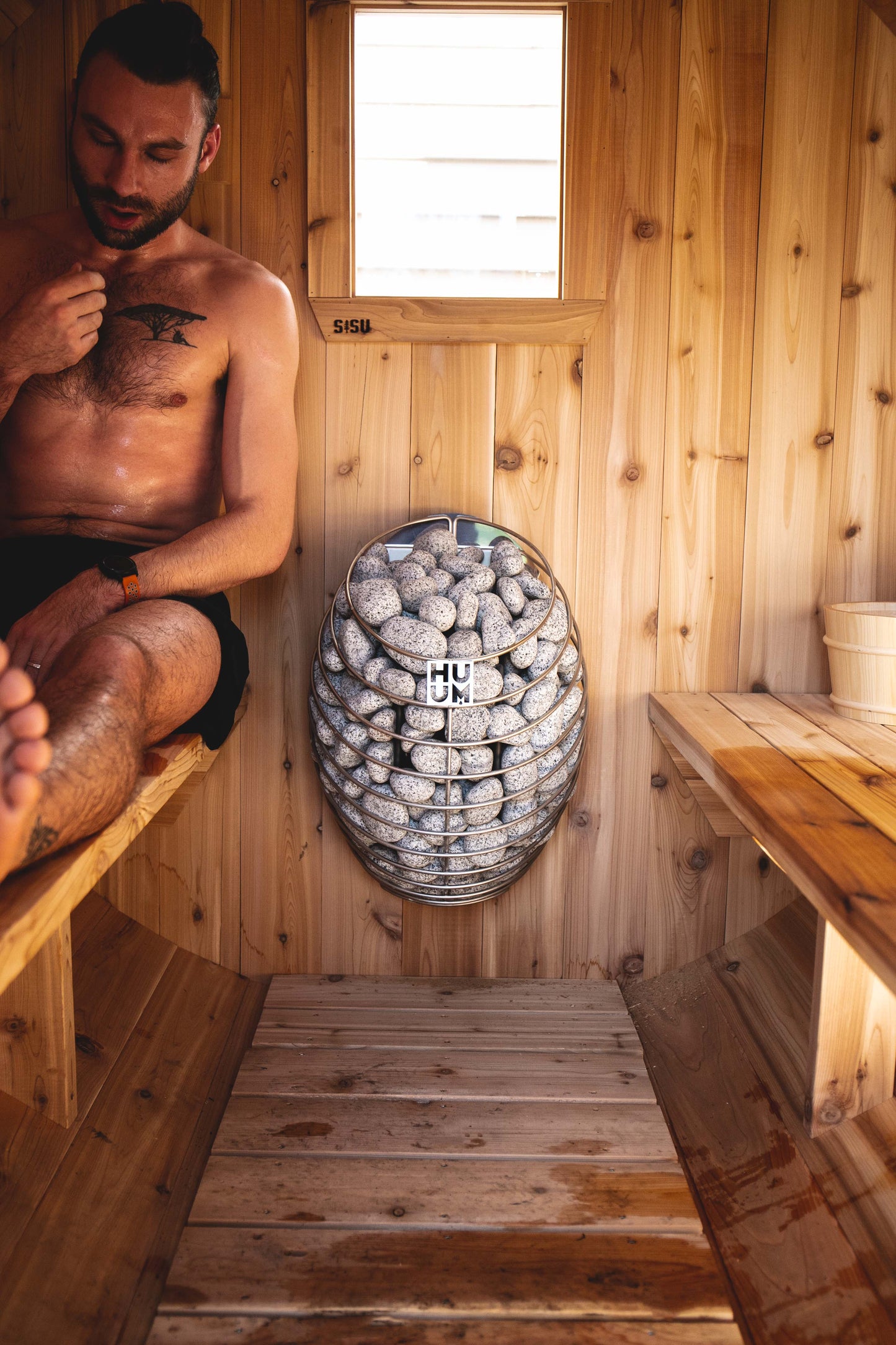 Learn More: The Edwin Barrel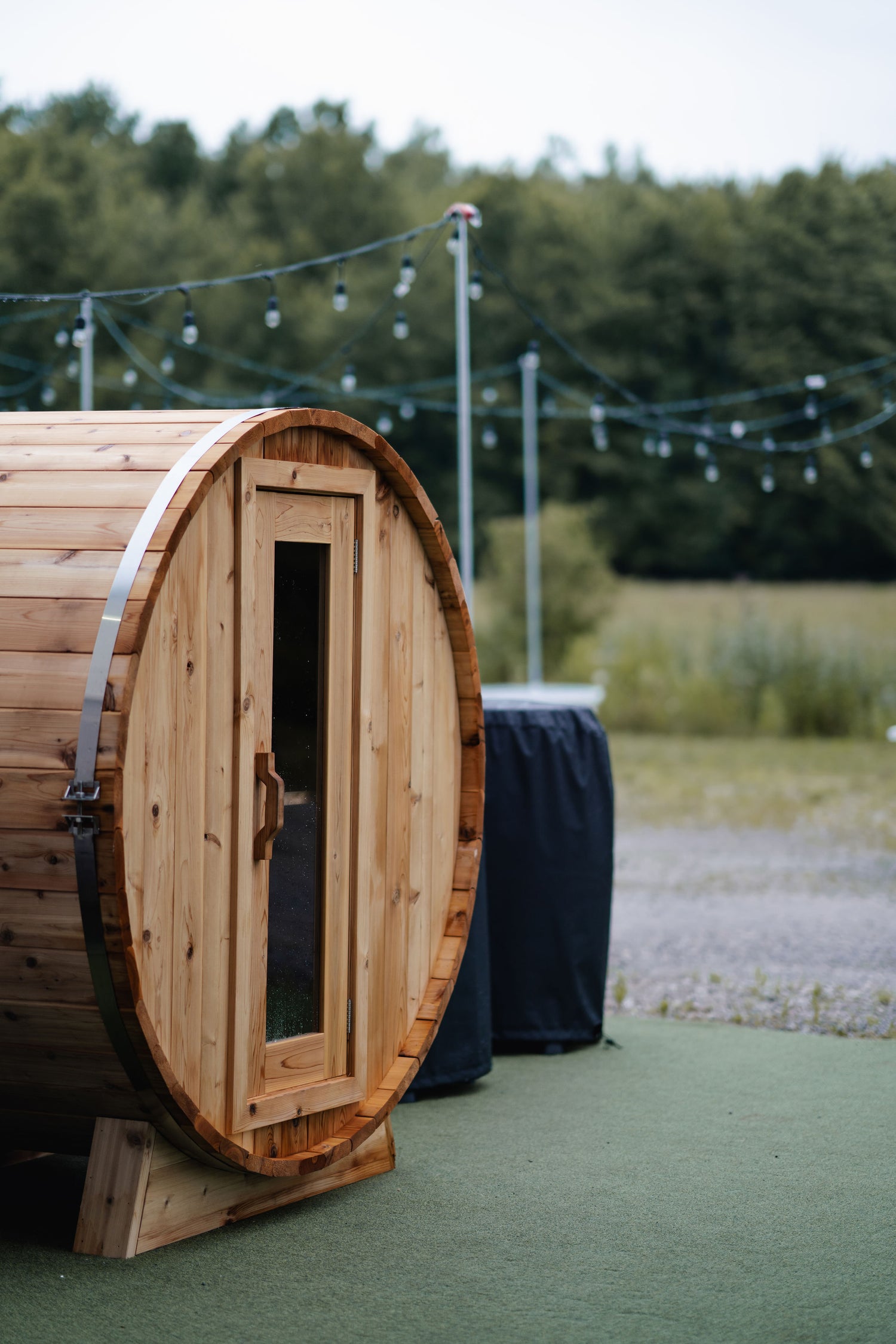 What's Included

HEATER

HUUM 6KW Drop Electric Heater w/ Wifi Enabled UKU Controller 

STONE

120lbs of HUUM rounded granite olivine diabase stones.

ROOF KIT (ADD-ON)

Rain & Ice Guard + Cedar Bevel Siding Roof Kit For Outdoor Use

SEATING

Two Durable Cedar Benches

WINDOWS

Tempered Glass Front & Rear Windows

STAINLESS STEEL

3 Stainless Steel Straps w/ Fasteners & Bolts
Door Hinges 

ACCESSORIES

Bucket, Ladle, Sample Products, and more!
Specifications

BUILT DIMENSIONS:

Sauna: 72" wide (diameter) x 84" Deep x 76" Tall (includes cradles)
Cradles: 3 (48" wide x 5.5" Deep)

WEIGHT

1000-1050lbs (roof kit dependent)

SHIPS IN CRATE

48" wide x 45.5" tall x 88" long (Crated Weight: 1,350lbs)
Electrical Requirements

HUUM 6KW DROP HEATER

240v - 30 amp single phase double pull breaker - 10/2 wire (hardwired connection)
For further specifications, please head to HUUM's site: https://huumsauna.com/tooted/drop/
What's Expected Of You

ASSEMBLY

(Don't worry, we made it easy on you). All you need is a friend & a few hours. The Edwin Barrel was created to make the build-out as simple as possible. All staves are pre-cut and require no additional cutting to make the pieces fit. 

TOOLS REQUIRED

Level 
Adjustable Wrench 
Rubber Mallet 
Hammer 
#2 Phillips Head Bit, #2 Squared Bit, & Drill
3/4" Deep Socket & Wrench

ELECTRICAL CONNECTION

The HUUM Heater is ran on a dedicated 240v hardwired line. We recommend contacting an electrician to run the electrical. Estimated costs depending on location: $500-$1,500. 

FLAT RESTING SURFACE

We recommend a clear space for the sauna to sit on. Do not rest on grass or dirt. Crushed gravel, river rock, cement, wooden deck, and/or pavers would make for good resting surfaces.
Warranty

SISU GUARANTEE 

Materials and craftsmanship matter. A sauna is a big decision that you should be very happy with, as it will be a staple of your home for many years. We confidently stand by our product. We guarantee you will love your hand-crafted sauna and if, for some reason, you don't, we offer a 100% money-back guarantee.

5 Year Limited Warranty on HUUM Heater
5 Year Limited Warranty on Sauna 

Protection against potential construction, manufacturing, and material defects, in addition to rot and decay that renders the product unusable.
Shipping + Local Pick Up

QUICK SHIP

Ships within 4-5 weeks. 
$750 Flat Rate Domestically to customers in lower 48. 
Additional shipping charges apply to Alaska, Hawaii, AND remote locations.

FREE PICKUP

Free, local pick-up at our warehouse located in Middlefield, OH.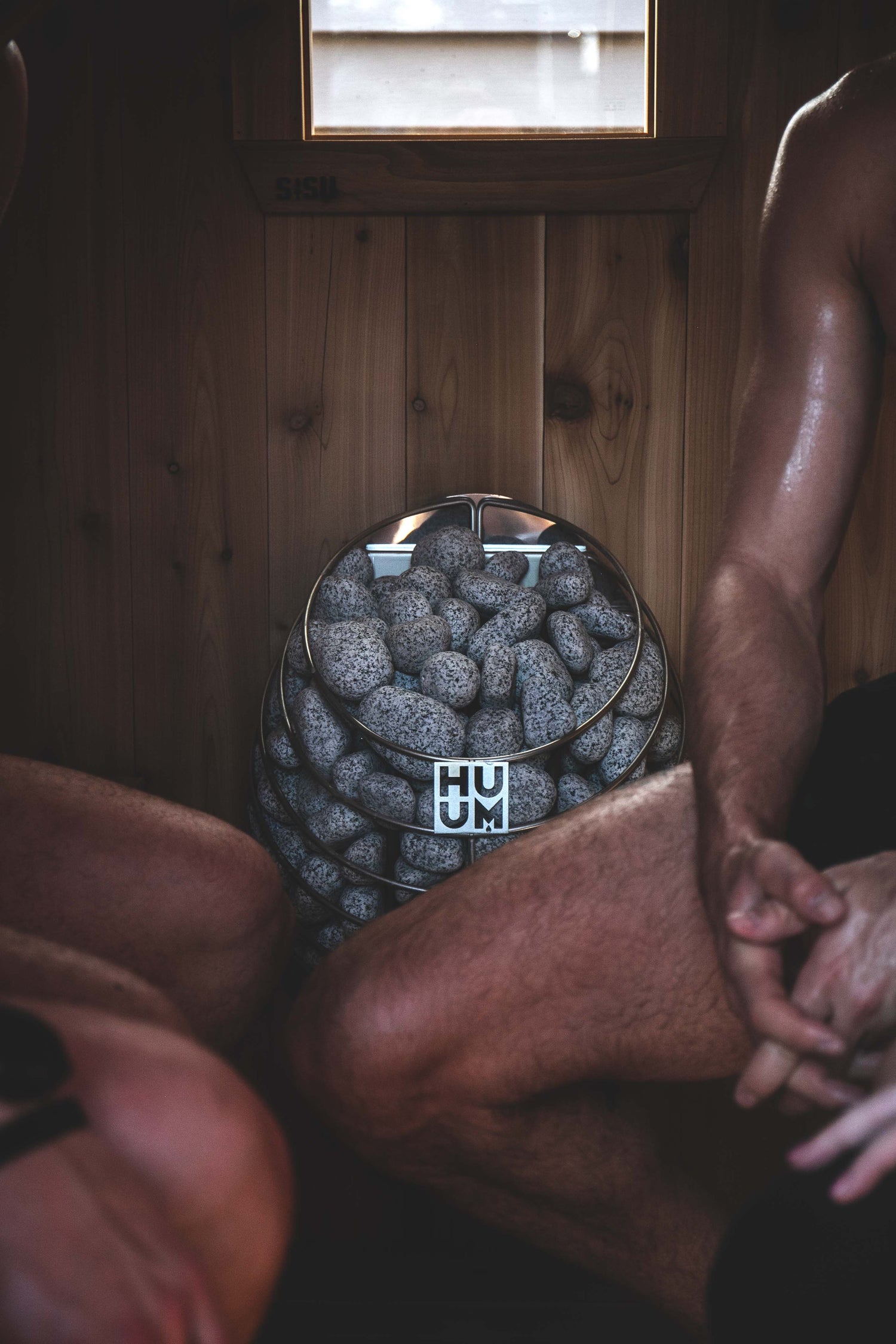 HUUM 6KW Drop Heater
DROP stove is inspired by the purest element in nature – a water drop. Its round design softens and livens up the angular interior of a classic sauna, giving it a touch of elegance.
Whether you are at the end of a long working day or going out for a run, with a couple of clicks on your phone you can have hot sauna waiting for you when you get home.
Learn More